Carmakers accused of fitting dangerous tyre pressure monitors
A new report found certain types of car tyre pressure monitors fail to warn drivers of deflating tyres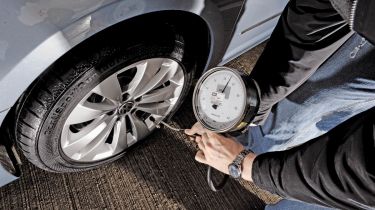 Carmakers are facing claims that tyre pressure monitors fitted to some models are only capable of passing the lab-based vehicle type approval tests. These systems fail under real world driving conditions – putting drivers and other road users in danger.
A new report by campaign group Transport & Environment said some carmakers are cutting costs by fitting cheap indirect tyre pressure monitoring systems costing less than £9. These indirect systems use vibration and wheel rotations as proxies for pressure, as opposed to direct systems that actually measure the air pressure inside the tyre.
• Best tyre pressure gauge 2016: group test
Independent vehicle testing of two Volkswagen and Fiat vehicles showed that the cheaper indirect systems failed most of the real world driving tests by failing to alert drivers of deflated tyres. It's estimated that properly inflated tyres could reduce the number of speed-related accidents by up to 20 per cent, as correctly inflated tyres handle and brake more efficiently. The report found that in vehicles with higher mileage the indirect systems were even less effective.
What's the law on tyre pressure monitors?
Current EU legislation requires tyre pressure monitors to be capable of issuing a warning signal no later than 10 minutes after the pressure in one of the tyres on the vehicle drops by 20 per cent or down to 1.5bar - among other requirements. The legislation doesn't differentiate between direct and indirect TPMS provided they can meet the type approval test requirement.
Julia Poliscanova, clean vehicles manager at T&E insisted on a wide-spread investigation of the industry as well as changing the EU laws: "Investigations of the suspicious TPMS performance must be carried out. Our tests clearly show that the unsafe indirect systems put drivers, pedestrians and cyclists at greater risk of dangerous blow-outs."
• Tyre test: best tyres to buy 2016
However, a Volkswagen spokesman told Auto Express that by not having witnessed the tests the company cannot verify whether the tyre pressure monitoring systems were correctly calibrated by those doing the tests. After each refill or change of tyre, the system has to be reset, as described in the owner's manual.
The spokesman said: "The TPMS systems used in vehicles by brands of the Volkswagen Group have been tested and evaluated in various conditions over millions of test kilometers. Volkswagen Group will review the IDIADA Benchmark test procedures and results stated in the report and if necessary demand a re-run that can be witnessed."
How often do you measure your tyre pressures? Tell us in the comments below...