Volkswagen Group brands to launch 80 electrified models by 2025
Volkswagen Group chairman reveals up to 50 pure EVs and 30 plug-in hybrids will launch across its brand portfolio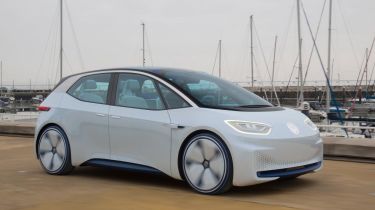 Volkswagen has announced it will offer at least one electrified variant of every model across all brands and markets by 2030. The group, which includes brands such as Audi, SEAT, Porsche and Skoda, also promises to bring 80 new electric or hybrid models to market by 2025.
The announcement, dubbed 'Roadmap E', was made by Volkswagen Group chairman Matthias Müller at the media opening of its hall at the Frankfurt Motor Show in 2017. Müller confirmed there would be at least one electrified variant in each of the 300-plus models it makes, with 50 pure-electric vehicles and 30 plug-in hybrids added to the range by 2025.
• Best electric cars on sale right now
Further details of the Roadmap E plan were revealed by Müller at the company's annual media conference in March this year. Müller announced nine factories will be adapted to produce electric vehicles by 2020, with a further seven plants joining these by 2022. He also said Volkswagen Group brands would, by 2022, be launching "practically one new electric model per month".
VW's Herbert Diess, meanwhile, said at the 2018 conference the company will sell home charging wallboxes to help support future electric models. Priced at €300 (equivalent to £265), these will be available by 2020 in order to coincide with the launch of the company's first EV, the VW I.D.
According to Mueller, the group will require more than 150 gigawatt hours of battery capacity annually by 2025 for its electric vehicle fleet – the equivalent of four 'gigafactories'. The company has put aside €50bn to meet this demand, with long-term partnerships with China, Europe and North America set in motion. In addition, the company is readying for the next generation of 'solid state' batteries that promise over 600 miles of range.
"We have got the message and we will deliver" Mueller said, referring to the diesel emissions scandal and events that followed. "We are setting the scene for a final breakthrough in e-mobility. Such a breakthrough won't be achieved by self-proclaimed 'pioneers', it will be achieved by a company selling over 10 million vehicles annually".
The intention is to make the Volkswagen Group the leader in electric mobility, with expectations of selling up to three million pure electric vehicles globally each year by 2025.
What do you think of the rise of electric vehicles? Let us know below...