Frankfurt Motor Show 2019: all the cars and all the news
Full round-up of the 2019 Frankfurt Motor Show. All the biggest news with the best pictures and videos
What is the Frankfurt Motor Show?
Among many things, the Frankfurt Motor Show is an opportunity. An opportunity to indulge yourself in large quantities of currywurst, apple wine, and the most important new metal of the moment. Operating on an alternating two-year cycle with the Paris Motor Show, the IAA Frankfurt show is one of the biggest dates on the automotive calendar.
Naturally, patriotism is fuelled to extreme levels with marques such as Mercedes, Audi and BMW pulling out all the stops to ensure an unforgettable display. Last time around, just under a million people visited the show, and with all the cars shown on page one of this guide, don't be surprised if 2019 is just as popular.
Dates
The 2019 Frankfurt Motor Show will open to the press on the 10 September 2019, so be sure to bookmark this page and tune into our social media feeds on the 10th so you don't miss any of the action. There's a second press day on Tuesday 11th and then the global automotive media pack up their laptops and vacate the show.
Two trade days kick off on the 12th and two days later (14 September 2019) the 230,000 square metre exhibition centre opens to the public, for them to drool over the impressive collection of cars. Once more, if you didn't manage to catch all the action in one day, the show runs until the 22 September, so there is a full week for you to enjoy the automotive nectar.
Opening hours
The opening times for the public days are 9am to 7pm, leaving plenty of time to enjoy everything on show. 
Location
The event is held at the Trade fair grounds, Ludwig-Erhard-Anlage 1, D-60327 Frankfurt/Main, Germany.  
Tickets
For members of the public who are either a child under the age of seven, persons with a disability ID (including one accompanying adult), and persons in wheelchairs (also including an accompanying person), entrance is completely free.
For the rest of the public, the 2019 Frankfurt Motor Show ticket prices are as follows:
Ticket

 

Dates Available

 

Online Price

 

On the Door Price

 

Weekend - single day

 

14, 15, 21, 22 September

 

Approx. £13

 

Approx. £15

 

Weekday - single day

 

16, 17, 18, 19, 20 September

 

Approx. £11

 

Approx. £13

 

Student - single day

 

14-22 September

 

Approx. £7

 

Approx. £7

 

Reduced* - single day

 

14-22 September

 

Only available on the day

 

Approx. £7

 

Weekend/weekday - single afternoon

 

14-22 September

 

Approx. £7.50

 

Approx. £9

 

Reduced* - afternoon

 

14-22 September

 

Only available on the day

 

Approx. £4

 
*reduced tickets available for apprentices and trainees, and participants in Federal Voluntary Services with according verification.
Show map
Click the image below for a full map of the Frankfurt show halls...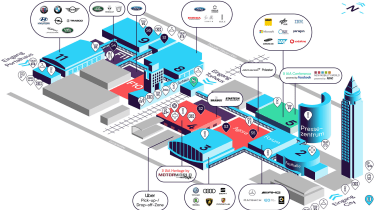 Follow us on social media and subscribe to our YouTube channel to stay in touch with all the latest from Frankfurt 2019...
• Twitter• Facebook• Instagram• YouTube
Are you looking forward to the Frankfurt Motor Show? Let us know in the comments section below…