Drop-tops
We test Ford's long-awaited Focus CC against key Volkswagen and Vauxhall rivals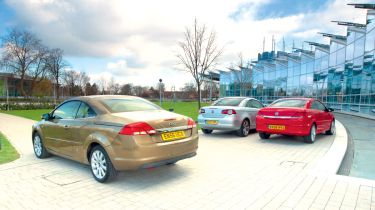 The Focus CC is here at last – but it isn't Ford's first folding hard-top. That honour goes to the 1957 Ford Fairlane 500 Skyliner with its one-piece roof. However, while Ford can trace the new car's lineage back 50 years, we have the French to thank for the current coupé-cabriolet craze.
Peugeot's 206 CC was the first hatchback to feature a two-piece metal lid, and it quickly became the UK's best-selling convertible. A 307 CC followed soon after, while Renault gave us the Mégane C-C. All this activity caught other European marques on the hop – it was only last year that VW and Vauxhall got in on the act. But the Eos and Astra TwinTop were worth the wait, since each featured a well packaged three-piece top.
Finally, Ford is hitting back. The Focus CC has been designed by Pininfarina and is on sale now with prices ranging from £16,795 to £20,270 for the flagship diesel tested here. However, bucking the current trend, it features a two-piece roof. Will that give it an edge over the Eos and Astra TwinTop?
All have hoods that claim to fold away in less than 30 seconds. But which has the best blend of style, image, quality, road manners and running costs that buyers demand?
Verdict
Oh dear, Ford. The Focus CC comes across as a half-hearted effort that falls short in two key areas. Firstly, convertibles are sold on the strength of their looks, but the blue oval's drop-top is far from pretty – in fact it's ungainly, with a bulky rear end. This is down to a second failing: the CC's roof. The two-piece top is outdated as it takes up too much boot space and limits rear room.
In typical Ford fashion, the Focus drives well and has a great diesel, but this fails to make up for the disappointments. A convertible needs to stir the emotions, and it fails to do so. The Astra TwinTop makes a better fist of things –it's prettier and has a smarter roof. There are flaws, but it's a decent package.
Yet it's not good enough to prevent the VW Eos taking an easy win. Although more expensive, it's the best to look at and be seen in. The time, money and effort VW has spent to get the Eos right has certainly paid off.