New M3 vs rivals
In what promises to be one of the most explosive tests of the year, we see if BMW's new M3 can beat supercar rivals from Audi, Porsche and Vauxhall...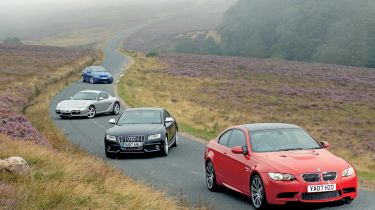 Power is seductive. Any driver who has experienced the thrill of a high-performance car's straight-line acceleration will have instantly been won over.
For years, one of the most desirable models in the sports car class has been the BMW M3. The original debuted at the 1985 Frankfurt Motor Show, powered by a 195bhp 2.3-litre four-cylinder engine. A little over 20 years later, there's a new, fourth-generation M3 with twice as many cylinders and more than double the power.
So is it really twice as good? After all, the newcomer had its nose bloodied at its international launch, when we put it head-to-head with Audi's RS4.
Now, we've got hold of one of the first right-hand-drive M3s in the UK to see how it fares against a variety of opponents. We want to find out if the BMW has what it takes to be crowned the ultimate everyday sports car. The previous M3 held that title, but this model won't have such an easy ride.
The RS4 has been discontinued as Audi prepares to launch the new A4 range. But the company has another contender in this class, in the shape of the S5. It boasts a meaty V8 engine and a coupé bodyshell, yet costs over £10,000 less than the BMW. Vauxhall's VXR8 is even more affordable, and it delivers greater power. In addition, the Aussie-bred saloon has already tasted test victory.
Last but by no means least is Porsche's Cayman S, voted the champion in our recent Greatest Drives 2007 test. We headed to North Yorkshire to assess the fast foursome...
Verdict
The BMW M3 is a stunning piece of machinery, technically excellent and expertly engineered, with a fabulous engine. So why doesn't it win? Simple: it doesn't make the driver feel a key part of the action, and so we ended up admiring the M3, but not loving it. It's also expensive to buy and run.
That criticism can also be levelled at the smaller and less practical Porsche, although the Cayman S is wonderfully involving and all the components work in perfect harmony, rather than the engine dominating. It takes the victory.
The S5 came close to causing an upset by nearly finishing ahead of the M3. It's not as fast and sporting as the BMW, but is a sophisticated and capable car that looks good, drives well and is temptingly priced. While the VXR8 is more affordable, the Vauxhall was out of its depth here. Although big and fast, it didn't come across as particularly well engineered in this company