Bluemotion vs Efficient Dynamics
Volkswagen and BMW have pioneered the use of electrical and mechanical changes to enhance economy and cut emissions. But which package is better? We find out as the new Golf Bluemotion meets the Efficient Dynamics 1-Series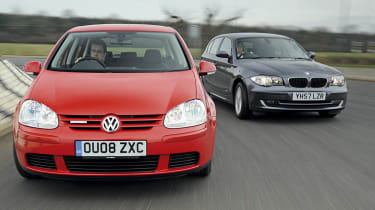 Ten years ago, carbon dioxide was a relatively harmless gas. But now, if the doom-mongers are to be believed, a rising level of CO2 in the atmosphere is the greatest threat our planet faces. As a result, the spotlight has been turned on polluting cars and the people who drive them.
Yet it's not only environmental concerns that are persuading firms to build cleaner models. The fact buyers are taxed more heavily if they choose a motor with higher emissions has also spurred them into action.
So, if you opt for a cleaner car, do you need to sacrifice performance and desirability? Not according to Volkswagen and BMW. The former is drawing on the success of its Polo Bluemotion by launching a raft of similar models, and the Golf is the latest to arrive. Powered by the familiar 1.9 TDI diesel, the newcomer is offered in standard or Match trim.
BMW follows a rather different approach. Instead of marketing specific low-emissions models, it has fitted its Efficient Dynamics package across the 1-Series range, and the 2.0-litre 118d is the cleanest of the lot. In SE trim, it's £4,000 more than the VW, but has a power advantage.
They're more closely matched elsewhere. Both return official combined economy of 62.8mpg and emit 119g/km of CO2, which means road tax of £35 a year and low company car charges. Tempted? Then let's see which eco model makes the most sense.
Verdict
The new Bluemotion is a welcome addition to the Golf range. It offers decent economy and emissions reductions over the 1.9 TDI, so will appeal to private and company buyers alike. As it sits in the lowest 13 per cent company car tax bracket, a higher-band business user would shave £298 a year off their bill, while your annual tax disc will be £85 cheaper.
As a result, the Bluemotion's £520 price premium doesn't seem unreasonable, especially as the driving experience is unaffected. However, with stop-start and brake regeneration, BMW's Efficient Dynamics is more advanced, while adding it to the whole range without charging extra is a smart move.
The 118d is pricier than the Golf, but the 2.0-litre engine is more powerful, quieter and smoother than its rival. Linear power delivery, involving handling and sharp dynamics make it a great car to drive. The harsh ride and lack of practicality are familiar 1-Series shortcomings, but we feel it's far more desirable than the Golf.
So the 118d wins, and based on this performance, Efficient Dynamics has the edge on Bluemotion in the eco battle.