VW Passat CC vs Alfa 159
VW has tailored its new Passat CC to suit fashionable buyers. So, does it fit the bill?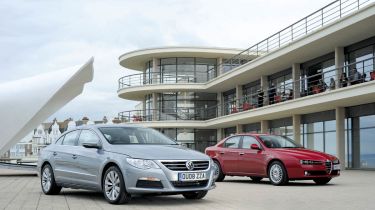 Like a tight-fitting tailored suit, a car bought for its looks won't be as practical or comfortable as a regular off-the-peg saloon. But that should make it all the more desirable.
Mercedes was first to adopt this exclusive approach in 2004, when it gave its E-Class a bespoke nip and tuck, resulting in the sleek CLS.
Now, Volkswagen has put its family car under the knife to come up with a more elegant cut. While the Passat Comfort Coupé has room for only four, VW thinks its sleek looks will tempt buyers into paying about £4,000 more than for the five-seater standard model. No one likes to spend more and get less, so the CC's charms will need to run deep for it to be a hit.
We test the entry-level petrol version of the VW newcomer against a model that wrote the book on four-door sex appeal. Hoping to teach the Passat a thing or two about style, Alfa Romeo's 159 cuts a dash with its crisp lines and tailored interior.
Now that the first right-hand-drive Passat CCs have arrived here in the UK, we brought the trend-setters to one of our own design classics: the De La Warr Pavilion in Bexhill, East Sussex, to see what the south coast's fine art appreciators thought of our fashionable pairing. The question is, will the Alfa's flair leave the Passat feeling more like a saloon in a straightjacket or a coupé in a dinner suit?
Verdict
If this test was judged purely on looks, the Alfa would take a clear victory. True, the Passat isn't as bland as it appears at first glance; spend time with it, and you will start to appreciate the subtlety of its design. But the 159 looks gorgeous from the minute you lay eyes on it.
The trouble is, the beautiful design is not enough to make the Italian car the better choice here. If it was as good to drive as it is to look at, we might have let our hearts rule our heads and chosen it over the VW. Yet the CC is not only a more relaxed cruiser; it's also just as capable on a challenging B-road as the 159.
Add the superior load space to the German car's impressive comfort, and it's a very strong contender – the only compromise is the capacity to seat four instead of five. So can it justify its premium over the standard Passat? If you can put a price on style, the answer is yes.