The ABC of GTI
Exactly how far has the VW Golf GTI come in the past 33 years? We compare the exciting new MkVI to the original MkI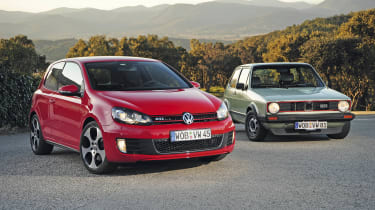 When Volkswagen fixed the GTI badge to the original Golf in 1976, its engineers hit on the perfect formula. The arrival of every subsequent GTI has been eagerly anticipated ever since.
After several years in the doldrums, the superb MkV firmly re-established the GTI as one of the most desirable, charismatic and enjoyable hot hatches money can buy. So expectations of the new MkVI are higher than ever. To see if it can live up to the legend, we decided to put it to the ultimate test, by taking an original MkI GTI to the car's launch.
It is smaller and slower than its modern day counterpart, but the first GTI firmly established the hot hatch template. The new GTI hits showrooms on 22 May, and its revised 2.0-litre engine produces more power and lower emissions than before. It's also available with a few hi-tech firsts, including VW's Adaptive Chassis Control system.
Class-leading safety and refinement also ensure the latest GTI promises to be the best yet – but how does it rate against the daddy of them all?
Verdict
There are no winners here, as both GTIs offer unique qualities.
Volkswagen returned the Golf GTI to greatness with the MkV, and the success story continues with the new MkVI. It's worthy of wearing the GTI crown and it's faster, greener and more refined than ever before.
In fact, the newcomer is better than the car it replaces in every area. Crucially, it retains the superb blend of polished handling and comfort that has made it so desirable. Excellent body control, accurate steering and supple damping ensure the latest GTI is the best yet in terms of driver appeal, while the Adaptive Chassis Control option makes it even more impressive.
Just like the original MkI, beautiful detailing inside and out adds to the appeal of the latest car. We will get a definitive answer when we test the MkVI in the UK against its key rivals, but on this evidence, the GTI is back at the top of the hot hatch segment.