Small Turbos Group Test
Turbo engines are more popular than ever, but are they any better than standard units? We try three of the best of each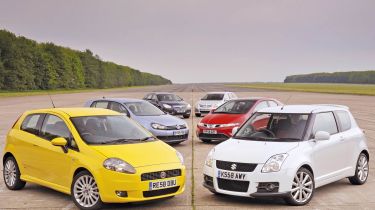 Think turbo, and you're more likely to imagine a flame- spitting racing car or high-performance road machine than an economical hatchback. But times are changing.
What used to be a favourite way of boosting performance for sporty models is fast becoming the norm for ordinary variants instead. The thinking behind this is simple. Small turbocharged petrol engines are supposed to provide the best of both worlds – the pace of a bigger normally aspirated unit with the emissions and economy of a smaller one.
And they're cropping up in a variety of sectors, as manufacturers scramble to launch new engines. To find out if the latest turbo models live up to the claims, we've chosen three of the best and put them up against more conventional rivals.
The latest firm to hop on the turbo bandwagon is Vauxhall. Its Insignia family car is now available with a 177bhp 1.6-litre turbo engine. Up against it is another fresh face in the large family car market, but the 2.0-litre Toyota Avensis is designed to maximise economy rather than pace. Will it be blown away by the powerful Vauxhall? We try estate versions of both.
In our compact family car match-up, Volkswagen's latest Golf renews its rivalry with the Honda Civic. But will the VW's 1.4-litre TSI be able to live with the British-built hatch's high-revving i-VTEC engine?
In our final head-to-head, the Fiat Grande Punto 1.4 T-Jet Sporting faces Suzuki's 1.6-litre Swift Sport. Given the Italians' reputation for producing racy small cars, you'd expect the turbocharged Grande Punto to be in pole position – but does it take the chequered flag?
Our pairings highlight a major difference in philosophy between manufacturers from the East and West, as European firms have been the quickest on the turbo uptake. Let's find out if they're good enough to see off their Japanese rivals...