Range Rover vs GL450
The new Range Rover is here, But can it sink Mercedes' GL in our luxury SUV clash?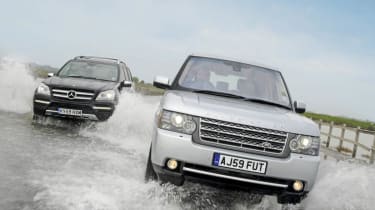 If you really want to make a splash, arrive in a Range Rover! The upper-crust off-roader was originally conceived as a utilitarian workhorse, but has since evolved into the ultimate luxury 4x4.
It is the default choice of the wealthy country set and trendy urbanites. And it's easy to understand why, because the Range Rover is a prestige car, superb tow vehicle, talented off-roader and style statement all rolled into one. Fans would argue that it rates alongside home-grown automotive legends from Bentley, Rolls-Royce and Jaguar.
Now, Land Rover's flagship model has benefited from a host of updates. But does the 2010 version still have the all-round desirability needed to stay at the top of the SUV pile?
To find out, we have pitched the Range Rover against the recently revised Mercedes GL450 CDI. It has a badge which rivals the British machine's for prestige, and even comes with a practical third row of seats.
Both 4x4s feature powerful V8 diesel engines, technology-laden interiors and high-class cabins, but which of these talented cars will make the biggest waves? Read on as we give our verdict.
Verdict
Both of these cars are accomplished off-roaders, but neither has been revolutionised by their recent updates – and they have very different personalities, too. On paper, the Merc seems to have the edge. It handles better than the Range Rover, is bigger inside, faster and very well built.
It should undoubtedly be the first choice for those who value practicality above all else, yet it looks pricey next to its smaller ML brother, particularly as it doesn't feel any more special inside. With dated switchgear it lacks the Range Rover's sense of occasion, while the firm ride takes the edge off its luxury credentials.
In contrast, the British model is ponderous in corners, but its cosseting ride smooths out bumps. A charismatic cabin and hugely relaxing drive make it the sector's most luxurious package. It might be getting on a bit, but the Range Rover is still the most desirable SUV around.