Subaru Forester vs rivals
We see if the new Subaru Forester can reach top of compact SUV tree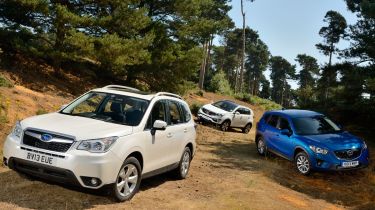 Subaru has long been famed for its durable, rugged cars, and was selling capable all-wheel-drive models years before the current compact 4x4 boom. The high-riding Subaru Forester, which made its debut in 1997, is one of the brand's best-selling cars ever. It's an alternative choice, with its boxy, almost estate-like body, but as with most Subarus, it's built up a loyal following over the years.
Yet European sales in this sector have increased eightfold since the Subaru debuted, so the all-new fourth generation faces a crowded market. There should be a model for every taste and budget, with a pair of smooth petrol engines and a 145bhp flat-four diesel to choose from, plus six trims. We try the frugal 2.0D in high-end XC spec.
To see if the new Forester goes straight to the top of the compact SUV tree, we test it against our 2013 Crossover of the Year, the Mazda CX-5, plus the attractively styled, great-value Kia Sportage.
Verdict
The compact SUV market is brimming with good cars, but the Mazda CX-5 remains a cut above the rest. It's spacious, great to look at and fantastic to drive, plus the SkyActiv diesel engine is smooth, refined and punchy. 
Unrivalled emissions mean you can opt for our powerful 173bhp test car and achieve better efficiency than the Kia Sportage and Subaru Forester, which helps offset the higher price. Or choose the 148bhp car, and you undercut its rivals here. Either way, the sharp handling, composed ride and quality interior give the Mazda the edge.
The Sportage has the looks and cabin to match the CX-5, but it's let down by a rough diesel and compromised handling. Refinement and ride quality also trail our winner. Yet it's good value to buy and run, and has the edge over the Forester.
Some buyers will be drawn in by the Subaru's strong build quality and rugged practicality. But it's held back by its dated styling inside and out, as well as its disappointing driving experience.