Best driving apps for iPhone and Android mobiles
The best free apps and paid-for apps to use hands-free while you're driving your car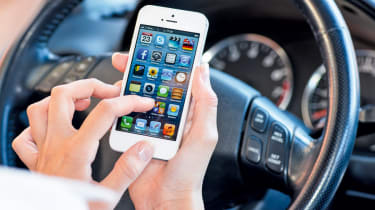 To optimise performance both on the road and at the pumps (as much as we hate it, fuel economy is an important consideration when driving in the UK) there are several useful smartphone apps available.
To find the best for conveying performance and/or economy data, we put five apps for each through their paces and crowned two champions. It doesn't matter if you are saving up for a new set of wheels or trying to impress your mates, below there is an app for you.
• Best parking apps for your phone
As there are a wide range of data loggers on the market which can record acceleration and work out MPG, the question remains which is the best for the job? The apps below are a mix of paid-for and free apps, which we downloaded and used to improve our driving experience. For the test, we rated how easy they were to use, analysed how clear the interfaces were, and how legible the text was to read.
The MPG calculators had to provide accurate accounts of mileage, and be simple enough for our petrol addled minds to understand. There were additional points available for apps which allow users to track maintenance costs. Also, apps scored well if there was the ability to share information via social media or e-mail, and as ever with our product tests, price was the final consideration.
Performance logs
1. g-tac free
Price: FreeAvailable for: iOS
The superb g-tac free is hard to beat. While there are two paid for apps in the g-tac stable – a £6.99version adds a horsepower calculator, while the £13.99 pro version gets rid of adverts – this free app is more than enough for the average motorist. It's easy enough to get started, with clear instructions, and it provides comprehensive data from your maximum speed, brake distances and acceleration times, all accurate to 5mph.
2. Dynolicious
Price: £5.99Available for: iOS
Unlike g-tac, there's no free version of Dynolicious, but it's worth paying for. You can export your results via E-mail, Facebook or Twitter, and you can save runs from more than one car as well. The display looks great, and it's simple to use, plus was accurate to within 1mph of our VBOX. Track-day enthusiasts will also like the skidpan measurements, which show g-forces pulled in corners.
3. PocketDyno
Price: FreeAvailable for: iOS
PocketDyno put in a strong challenge to our top two, as it's extremely easy to understand, and you get clear instructions about how to start – either tap to get going, or double tap for a traffic light countdown. However, you can't store the results of more than one car, and there are far too many adverts. It was accurate to within 5mph of our VBOX, and provided plenty of data, but you can't export any of it.
Price: £2.49Available for: iOS
For this price, we expected more than just a speedometer. The display is clearer than Speedo HD Free, and the interface is really slick. We also love the fact you can put your iPhone on the dash and the app will act as a head-up display. But it doesn't provide as much data as the other apps, and you can't export any data. Almost as accurate as the Dynolicious, though.
Price: Free
Available for: iOS
We hoped that revisiting this app after a year would have given the developer time to address our previous concerns, but sadly that's not the case. The app only shows your speed, and worse still, it didn't reflect what was on our VBOX– the app was out by about 7mph. There's no head-up display, and you can't record any acceleration or top speed, so this app could never hope to challenge for top honours.
MPG Calculators
1. Gas Manager
Price: FreeAvailable for: Android, iOS
A recent update propels Gas Manager to victory. The interface looks great, and we love how it displays the uploaded picture of your car. There are plenty of graphs to help track your mpg, and inputting info is simple, as is exporting reports. Unlike our recommended choice Road Trip (right), it can only track your fuel consumption, but it does show nearby fuel stations and car parks. Plus it's free, and is available for Android and iOS.
2. Road Trip
Price: £2.99Available for: iOS
A great app. Inputting data is simple, as is exporting your reports. You can upload a picture of your car, and use the app to record info on more than one vehicle. The summary crams all the info on to one page, and you can tilt your iPhone to view each graph in landscape mode. It's the most expensive of the mpg calculators, but you can use it to track garage costs, too.
3. Car Care
Price: £1.99Available for: iOS
Looks as good as Gas Manager, and lets you input maintenance costs plus fill-ups. It's not free like our Best Buy, but it's slightly cheaper than Road Trip. The data entry process is a little more complicated, and we don't like the fact you have to search for costs – mpg is the main focus on this app. But the pitstop feature, which times your fill-up, is fun, and we like the way your car's picture becomes your background.
4. Gas Cubby
Price: £1.49Available for: iOS
Gas Cubby differs from our top two as you have to enter your car's make and model before getting started – and our 2012 Peugeot wasn't on the list, so we had to input the manufacturer's claimed figures manually. Still, it's very easy to understand, and the menus are clear – if a little dull compared to rivals'. And while you can export reports, it's slightly irritating that you have to enter the time of each fill-up.
5. AccuFuel
Price: 69pAvailable for: iOS
We were disappointed with AccuFuel. The display is clear, but you have to scroll individual wheels (rather than use the keypad) to enter your mileage, which takes too much time. We'd also prefer it if you could enter the total cost, rather than the pence per litre price, and the graphs are rather simplistic. You can't assign pictures of your cars to their reports, but at least you can export data.