Caterham Seven 340 revealed in S and R form
The new Seven 340 replaces the 275 and sits in the middle of the Caterham range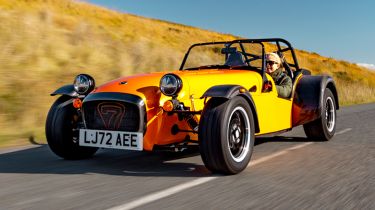 A new Caterham has joined the ranks and unsurprisingly it looks pretty similar to its predecessor. The new 340 might look the same as the outgoing 275, but there's plenty that's changed under its lightweight, retro bodywork. 
The old Seven 275 used the now discontinued Ford Sigma engine and in its place the 340 employs a naturally aspirated, 2.0-litre, four-cylinder Duratec unit. The power output is 170bhp - a 25 per cent increase over the old model.  
Although Caterham is yet to reveal performance figures for its new 340, thanks to that bump in power the car should offer up a quicker 0-62mph time than the 275's 6.1 seconds. The 340 is also available in two trim levels. One is the 'S', which is designed for a more grand touring experience, whereas the other is the 'R' - a more hardcore version for track days. With the two variants offered, Caterham says its new Seven 340 is the "ultimate do everything Caterham".
A five-speed manual gearbox is standard for the 340 and the S comes with a 'road suspension pack', 14-inch classic alloy wheels, a full windscreen, bonnet and side screens and black leather seats.
The 340R gets a limited-slip differential, the 'sport suspension pack', 15-inch Orcus alloy wheels, four-point harnesses, a carbon-fibre dashboard and a composite aeroscreen. Caterham hasn't said how much the 340 will weigh, but it's likely to be around the 540kg figure of the 275.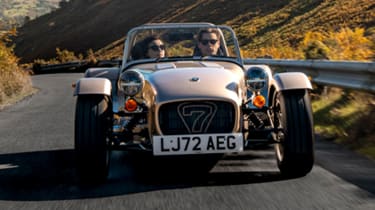 While Caterham has allowed customers to purchase their cars in parts and build them at home, the 340 will be factory-built only, but it will be offered in standard and large chassis sizes. 
Caterham says the 340 won't be available in the UK, but in Europe the 340S starts from €45,700 (£39,900) and the 340R from €47,200 (£41,200). The 340 will also be available in Japan, which is no great surprise given Caterham was recently sold to its Japanese distributor.
Now read our review of the Caterham Super Seven 2000...