Driverless car users may not be liable in accidents
Law Commission proposes motorists in driverless cars should be renamed "users in charge" as part of "no-blame culture"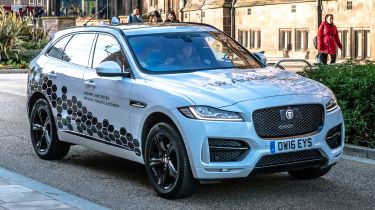 Users of future driverless cars may be absolved from blame in the event of an accident or offence, if recommendations from Government law experts are accepted.
The Law Commission of England and Wales and the Scottish Law Commission have conducted a consultation, the results of which propose any driverless cars that may emerge in coming years or decades should operate within a "no-blame culture", where drivers are renamed "users in charge".
The Commissions recommend that the blame for anything from a speeding offence to a fatal accident should automatically be transferred from a vehicle's owner or user to the manufacturer of that vehicle.
The consultation endorses a "learning culture" in which accidents and other incidents can be used to improve driverless vehicle technology. The Commissions will, however, seek views on whether to review the possibility of new corporate offences to address instances where errors by a developer of driverless-vehicle technology result in death or serious injury.
Considerations have also been made with regard to safety: a two-track system has been proposed, which would allow manufacturers to choose whether to get type approval for driverless cars under an international framework, or a national scheme. This would be followed by a categorisation decision to establish whether the vehicle can be classed as self-driving in the UK, and how it can lawfully be used on our roads.
There are also proposals in place around the categorisation of autonomous vehicles and what the responsibilities of their operators and users should be. Users will still be responsible for insuring vehicles, except in cases where they are operated as part of a fleet, in which case this responsibility will lie with the operator.
Nicholas Paines QC, public law commissioner, said: "As the UK prepares for the introduction of automated vehicles on our streets, it's vital that the public have confidence in this technology.
"Our proposed legal framework will ensure that this technology can be safely deployed, whilst the flexibility built into the rules and regulations will allow us to keep up with advances in the technology."
The news follows Government proposals on law changes that would allow drivers to take their hands off the steering wheel when using cars fitted with ALKS (Automated Lane Keeping System), a move generally seen as an early legislative change that paves the way for more sophisticated technologies - though the ALKS plans met with criticism from safety experts.
Can self-driving cars be safely integrated onto our roads? Let us know your views in the comments...