Dacia Duster gains new 1.0-litre three-cylinder engine
The Dacia Duster gains a new, more efficient entry-level TCe 100 engine, set to replace larger outgoing 1.6-litre petrol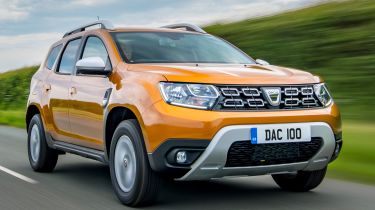 The Dacia Duster is now available with a new, entry-level TCe 100 turbocharged 1.0-litre three-cylinder petrol engine. Prices for the new engine start from £10,995 in base Access spec, £12,495 in the mid-range Essential version and £13,995 in the Comfort variant.
Dacia's new 1.0-litre three-cylinder will soon completely replace the Duster's naturally aspirated 1.6-litre four-cylinder SCe 115 unit – although the two remain on sale together for now. The new unit has less power than the outgoing engine (99bhp versus 113bhp), but torque is up 66 per cent to 260Nm. It can only be had with front-wheel drive and a five-speed manual gearbox.
• Best small SUVs and crossovers on sale now
Despite its increased torque, the Duster's new TCe 100 engine does not beat the old SCe 115 unit in performance terms. Its 0–62mph time stands at 12.5 seconds and top speed is 104mph – 0.6 seconds and 3mph slower than the old engine. However, thanks to that extra torque, Dacia claims the new engine is more responsive on the move.
To offset the reduced performance, Dacia's new 1.0-litre three-cylinder petrol offers improved economy and lower emissions than its predecessor. Dacia claims economy of 48.7mpg and emissions of 126g/km of CO2, compared to the old 1.6-litre engine's 43.5mpg and 149g/km.
The Duster's turbocharged TCe 130 and TCe 150 1.3-litre four-cylinder engines will remain on sale priced from £14,995 and £16,895 respectively. Dacia will also retain the Duster's turbocharged 1.5-litre four-cylinder diesel engine at its current starting price of £13,700.
Does Dacia's more efficient three-cylinder engine encourage you to buy a Duster? Let us know in the comments section below…