Our tribute to the legend that is Sir Stirling Moss
Mike Rutherford shares his memories of British racing icon and Auto Express columnist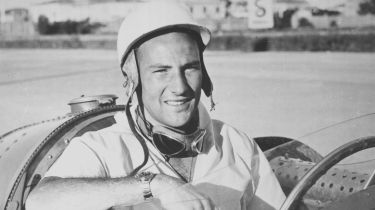 I first met Stirling Moss on a plane. We were both returning to London, him from his winter retreat near Fort Lauderdale, me after a painful meeting I'd just had at the Miami home of my long-lost American sister, who I hadn't seen for decades.
As if the emotional exhaustion from the reunion with big sis weren't enough, I found myself hopelessly star-struck by the living legend sitting across the aisle from me. Honestly, I felt I was in the presence of a genuine icon. Jimi Hendrix has that status, along with Frank Sinatra, Muhammad Ali and Pele. Moss has now joined that elite international club, I'd respectfully suggest.
Sensing that I was yet another awkward fan who knew not what to say, Mr Moss (as I called him back then) broke the ice by asking if I'd like to read the classic car mag he was finished with. That little gesture said much about the man. He always found time and kindness – plus an autograph or photo or whatever – for the countless admirers he gave the time of day to.
I'm not exactly sure how or why, but this Stirling Moss fan later had the privilege of working closely with him in the late eighties and early nineties on radio, television, at car launch events and – more importantly – on Auto Express, where I signed him up as our first motorsport/motoring columnist.
But his loyalty to and uplifting presence at the mag went way beyond his published articles. Back then we were brand-new, building ourselves up from scratch; our New Car Awards 'ceremonies' were modest affairs staged at our office by the River Thames. But Stirling would happily rock up for such gatherings, arriving immaculately dressed, on the trusty moped that was his preferred mode of transport in London, where he was born and lived most of his long life. Armed with that humble two-wheeler and his local street knowledge, no-one in the traffic-choked capital did higher average speeds than him.
Not that speed, per se, thrilled Stirling. He once confided in me that as a child he experienced the sensation of travelling at well over 100mph in the Bentley that belonged to his dentist and Indianapolis 500 driver dad, Alfred. Therefore, Moss had speed for the sake of speed drummed out of his system at a young age.
He often claimed he'd never received a speeding ticket. The closest he came to acquiring one was when, after driving what he described as "rapidly", he was pulled over by a policeman who really did ask: "Who d'you think you are, Stirling Moss?" Equally true is that the great man replied: "Well actually officer, I do and I am." Both of them collapsed with laughter. Stirling used his wicked humour to talk himself out of a ticket; the cop went away with an autograph and some fond memories.
Not that Moss did everything right on public roads. Polite, yes (often raising a hand to thank a fellow driver who moved over to let him pass). Supremely confident, of course (as you'd expect). But on the poorly lit country lane that led to his sister Pat's farmhouse, he gave me the scariest passenger ride of my life. Afterwards, Stirling explained that because he'd driven it for decades he knew the road to Pat's as well as any other drivable surface anywhere in the world. "Besides, I was only doing seven-tenths, not the 10-tenths I've sometimes done along there," he joked. At least I think Stirling was joking.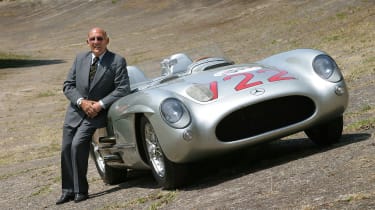 A very different journey I took with Stirling was to the British Motor Show at the NEC three decades ago. I surprised him by inviting a young Damon Hill along for the ride; not least because the two had never met before and had things in common, including birthdays on 17 September and, more importantly, Damon's late father, Graham Hill, was Stirling's former colleague.
So, much to talk about then, except that there was surprisingly little discussion between them. Maybe Damon picked up on what I already knew: that although Moss was never rude about them, he didn't rate up-and-coming Damon, or his dad before him, as great drivers. Of the Brits, Stirling preferred racers in the Jim Clark, Jackie Stewart, Nigel Mansell mould. He rated Ayrton Senna, Alain Prost and Michael Schumacher highly, too. Senna sometimes used to call him for a chat, because Moss was a mentor to established or emerging drivers, including Hamilton, who turned out to be the world champion that Stirling assured me he'd become a couple of decades ago.
I had the honour of being in the room when Moss was reunited with Fangio, his old and much respected team-mate, who was the best of the best, Stirling sometimes hinted. Then again, he'd often name another driver as his favourite of all time. That man was – still is – Tony Brooks, now 88. Look him up. Like Stirling, one of the world's finest racers.
On a personal level, I'm forever grateful – and, frankly, amazed – that a mentoring Stirling allowed that young fan on the plane to develop into his colleague, ghost writer, occasional co-driver (oh, how he laughed!), and family friend.
He oozed class and provided me with some of the funniest, yet most informative and inspiring, days of my working life. But with his equally lovely wife, Susie, he took a genuine interest in me and my family.
When, in recent years, I visited Stirling in hospital, or saw him at his London house or his 'second English home' (Goodwood) he never stopped appreciating the good things in life. Never stopped telling the jokes he was so famous for. If anyone in this world lived life to the full while at the same time giving himself to a public that adored him, it was Sir Stirling Moss. What a man. What a life. What a legacy.
Why not tell us what your favourite memories of Sir Stirling Moss are in the comments below...