The right tyres for the right time
Staying safe on the road means making sure you have tyres that can deal with whatever driving conditions you face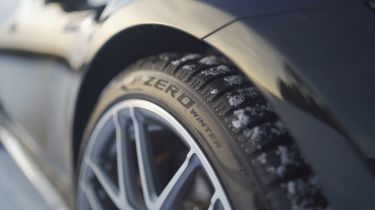 One of the most vital elements of any car are its tyres. Not only do they keep your vehicle moving, but they're also paramount when it comes to handling environmental challenges and staying safe on the road. But which type of tyre is right for you? It's a question that many drivers will ask themselves, particularly during the more treacherous colder months.
The choice between winter and all-season tyres can be a straightforward one depending on your location: some European countries make winter tyres mandatory, while others require them only for wintery road conditions.
In the UK, however, there's no legal requirement to switch to winter tyres, so any decision you make will be steered by individual circumstances such as the car you're driving, the level of performance needed and whether or not your environment demands it.
When to choose winter tyres
Winter tyres have a softer compound which aids performance when temperatures fall into single figures, leading to better braking and traction on low-grip surfaces. They're also distinguished by M+S or 3PMSF markings, standing for 'mud and snow' or 'three-peak mountain with snowflake', respectively. All of this adds up to improved safety on icy or wet roads, but with all-season tyres proving so versatile for the UK, when might you want to opt for winter tyres?
Winter tyres are better-suited for drivers who expect to cover greater distances in winter, and those keen to get the maximum performance from their vehicle. If you're concerned about switching to winter tyres as the weather starts to turn, then it's worth seeking out a mobile tyre fitter, who'll be able to make the change. It's worth considering a 'tyre hotel' to look after your additional wheels and tyres, or simply keep a different set of wheels - stored correctly - in the garage with winter tyres to swap in when the time comes.
One big factor could be where you live. For example, areas in the Scottish Highlands experience the UK's coldest temperatures in the winter months, while other more mountainous regions in the UK, like the Pennines and the Peak District, also have challenging roads to navigate. It's also worth being aware of winter weather forecasts; many may have been caught out by the 'Beast from the East' cold snap in 2018, which saw bracing winds and temperatures across the UK plummet to minus five degrees.
Pirelli's winter tyre options should cater to any vehicle's needs. The P Zero Winter range is designed with high-performance cars in mind, while the Winter Sottozero 3 offers high traction and solid grip in wet conditions for premium and performance cars. Urban drivers with an SUV looking for peace of mind in winter can turn to the Cinturato Winter tyre for safety and control in cold conditions.
Whatever the weather throws at you, it's important to feel comfortable and make sure your car is as safe as it can be on the road. By thinking about your tyres first, and the environmental changes they'll have to adjust to, you'll have a worry-free winter behind the wheel.
Tyres for all seasons
For many UK drivers, all-season tyres make perfect sense as they're designed to deal with more moderate climates to give a safe, reliable driving experience all year round. Their compounds and tread patterns are balanced to deal with both dry and wet conditions, giving stable cornering and strong traction, with a reduced risk of aquaplaning. With all-season tyres, you also won't have to change them in winter, either.
If you're based in a metropolitan area like Birmingham or London and mainly use your car for city driving – in temperatures that may range from minus five to 25 degrees Celsius – and expect to be covering a limited distance every year, then choosing all-season tyres will likely be the right choice for you.
However, it's an area where you'll want to ensure you're covered for both comfort and safety. Manufacturers like Pirelli offer a wide range of all-season tyres, so you can find the right type to meet the needs of your particular vehicle. Urban drivers with 15 to 20-inch wheels have the Cinturato All Season Plus, designed with a new tread pattern and compound to improve performance in both winter and summer conditions. SUV owners, meanwhile, may want to look at the Scorpion Verde All Season SF.
The Cinturato All Season Plus and Scorpion Verde All Season SF tyres are also available with Seal Inside technology, allowing drivers to keep going even with a puncture of up to four millimetres in diameter.
For those of us not dealing with extreme cold and snow, all-season tyres are a great compromise that meet the needs of the majority of UK drivers throughout the year.
Discover more about Pirelli's all-season and winter tyres at pirelli.com