Tyre test 2021: results by category
In-depth look at the scoring charts for 2021 tyre test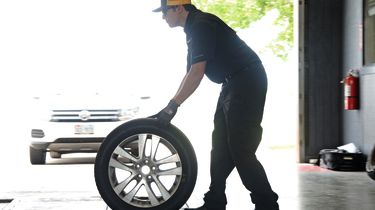 In association with

We have a clear winner in 2021, with the Hankook S1 evo3 the class of the field. Its win is based upon its great wet performance, particularly under braking.
Results are closer elsewhere, with the Michelin, Vredestein and Bridgestone hard to separate. The Pilot Sport 4 has the advantage in the wet while the Ultrac has the edge in the dry. The frugal T005 is recommended for high-mileage drivers.
Goodyear and Continental make up the next group and are for drivers who want a tyre that's good to drive, even if ultimate performance is not what it once was.
Nokian, Pirelli and Avon are closely matched, but more balanced performances are needed to move up the results.
Dunlop is adrift at the bottom of the tests, with a new design needed to return the brand to the top of the table.
Results by Category
| | | |
| --- | --- | --- |
| Overall | | |
| 1st | Hankook | 100.00% |
| 2nd | Michelin | 99.50% |
| 3rd | Vredestein | 99.40% |
| 4th | Bridgestone | 99.20% |
| 5th | Goodyear | 98.80% |
| 6th | Continental | 98.70% |
| 7th | Nokian | 97.70% |
| 8th | Pirelli | 97.60% |
| 9th | Avon | 97.40% |
| 10th | Dunlop | 96.60% |
| Wet handling | | |
| 1st | Vredestein | 100.00% |
| 2nd | Hankook | 99.80% |
| 3rd | Michelin | 98.90% |
| 4th | Goodyear | 98.10% |
| 5th | Continental | 98.00% |
| 6th | Avon | 97.40% |
| 7th | Bridgestone | 97.20% |
| 8th | Nokian | 96.90% |
| 9th | Pirelli | 95.60% |
| 10th | Dunlop | 93.90% |
| Straight aqua | | |
| 1st | Michelin | 100.00% |
| 2nd | Hankook | 97.30% |
| 3rd | Dunlop | 97.00% |
| 4th | Vredestein | 96.90% |
| 5th | Goodyear | 96.80% |
| 6th | Bridgestone | 96.10% |
| 7th | Nokian | 93.10% |
| 8th | Pirelli | 91.60% |
| 9th | Continental | 91.40% |
| 10th | Avon | 90.40% |
| Dry braking | | |
| 1st | Michelin | 100.00% |
| 2nd | Hankook | 98.10% |
| 3rd | Vredestein | 97.70% |
| 4th | Nokian | 97.50% |
| 5th | Continental | 97.00% |
| 6th | Bridgestone | 96.60% |
| 7th | Goodyear | 96.30% |
| 8th | Pirelli | 95.80% |
| 9th | Dunlop | 94.30% |
| 10th | Avon | 92.30% |
| Wet braking | | |
| 1st | Hankook | 100.00% |
| 2nd | Continental | 95.40% |
| 3rd | Michelin | 94.80% |
| 4th | Goodyear | 89.60% |
| 4th | Vredestein | 89.60% |
| 6th | Avon | 87.90% |
| 7th | Nokian | 87.00% |
| 8th | Pirelli | 85.40% |
| 9th | Bridgestone | 85.10% |
| 10th | Dunlop | 79.50% |
| Curved aqua | | |
| 1st | Goodyear | 100.00% |
| 2nd | Dunlop | 98.40% |
| 3rd | Michelin | 98.00% |
| 4th | Vredestein | 97.00% |
| 5th | Nokian | 85.50% |
| 6th | Hankook | 81.60% |
| 7th | Bridgestone | 81.20% |
| 8th | Pirelli | 80.40% |
| 9th | Avon | 72.60% |
| 10th | Continental | 61.70% |
| Rolling resistance | | |
| 1st | Bridgestone | 100.00% |
| 2nd | Pirelli | 82.00% |
| 3rd | Continental | 71.20% |
| 4th | Dunlop | 70.90% |
| 5th | Avon | 68.70% |
| 6th | Hankook | 68.20% |
| 6th | Nokian | 68.20% |
| 8th | Vredestein | 67.80% |
| 9th | Goodyear | 65.70% |
| 10th | Michelin | 63.80% |
| Wet cornering | | |
| 1st | Michelin | 100.00% |
| 2nd | Goodyear | 99.90% |
| 3rd | Nokian | 98.50% |
| 4th | Hankook | 98.40% |
| 5th | Bridgestone | 97.60% |
| 5th | Vredestein | 97.60% |
| 7th | Avon | 96.70% |
| 7th | Pirelli | 96.70% |
| 9th | Dunlop | 96.50% |
| 10th | Continental | 95.30% |
| Dry handling | | |
| 1st | Goodyear | 100.00% |
| 2nd | Dunlop | 99.90% |
| 3rd | Continental | 99.80% |
| 3rd | Vredestein | 99.80% |
| 5th | Michelin | 99.30% |
| 6th | Hankook | 99.10% |
| 7th | Pirelli | 99.10% |
| 8th | Bridgestone | 99.00% |
| 9th | Avon | 98.90% |
| 10th | Nokian | 98.80% |
| Cabin noise | | |
| 1st | Avon | 100.00% |
| 2nd | Nokian | 99.40% |
| 3rd | Continental | 99.30% |
| 4th | Pireli | 99.20% |
| 4th | Vredestein | 99.20% |
| 6th | Bridgestone | 99.10% |
| 7th | Dunlop | 99.00% |
| 8th | Hankook | 98.90% |
| 9th | Goodyear | 98.80% |
| 10th | Michelin | 98.10% |
| Price | | |
| 1st | Avon | £74.70 |
| 2nd | Nokian | £78.25 |
| 3rd | Vredestein | £78.41 |
| 4th | Dunlop | £78.85 |
| 5th | Hankook | £84.77 |
| 6th | Goodyear | £84.89 |
| 7th | Bridgestone | £85.57 |
| 8th | Michelin | £98.57 |
| 9th | Continental | £100.15 |
| 10th | Pirelli | £100.39 |