Ferrari 458 Spider at Goodwood
Watch official footage of the drop-top Ferrari 458 Spider, as it makes its UK debut at Goodwood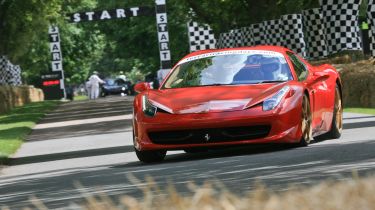 [[{"type":"media","view_mode":"content_narrow","fid":"84430","attributes":{"class":"media-image","height":"180","width":"180"}}]]
The Ferrari 458 Spider has made its UK debut, in front of crowds at the Goodwood Festival of Speed last weekend.
With the ability to accelerate from 0-62mph in just 3.4 seconds, the 562bhp, 4.5-litre V8 supercar follows in the footsteps of the stunning 458 Italia but adds a lightweight, fully retractable, aluminium hard-top roof.
Watch the 458 Spider in action on the famous Goodwood hillclimb, driven by Scuderia Ferrari driver, Marc Gene – but make sure you turn up the speakers up to hear the full effect of that howling V8 soundtrack.