Ferrari 458 Speciale video review
We test the excellent new Ferrari 458 Speciale at the Fiorano Circuit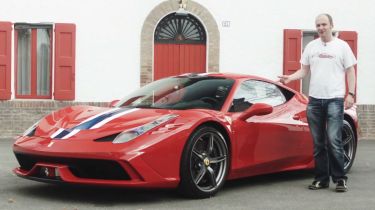 The Ferrari 458 Speciale, based on the already excellent 458 Italia, is filled with extra technology that aims to make it into one of the most thrilling supercars that money can buy.
It gets an uprated version of the standard car's 4.5-litre V8 engine, with a staggering 597bhp – meaning it goes from 0-62mph in just three seconds. The aerodynamics of the Ferrari 458 Speciale have been improved as well, to decrease drag and boost downforce – just like an F1 car.
Plus, it shed 90kg from the normal car's weight, with over 20kg shaved off of the interior. It's a fantastic setup inside the car, with carbonfibre everywhere – from the seats to the door trims and dashboard.
The Ferrari 458 was always brilliant, but this Speciale edition is, well, a bit special.
The engine is a thing of joy – once the revs go over 5,000, it just takes off, and it sounds incredible, too. You can feel the new aero working through fast corners, and it feels glued to the road and incredibly agile.
It shines on the track, but it's actually remarkably good on the road. The ride is a bit firm, and the engine is very noisy, but you can forgive all of that when you get to the right road.
The engine has so much torque and it's so responsive that it's brilliant fun here, too. There's also a slide control system that allows just enough slip before it intervenes to prevent a disaster.
Ultimately this car's aggressive nature is a small price to pay for the extra on-track focus you get. Is it worth £30,000 more than the standard car, though? Well, if you've got the sort of money that will buy one of these cars the question you really need to ask yourself is: do I want to own one of the most thrilling and intoxicating cars in the world?