New Ford Escort could come to Europe
The new Ford Escort saloon, set for China, could be sold in Europe, too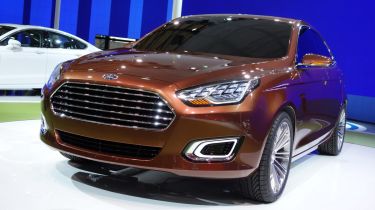 The new Ford Escort, unveiled at the Shanghai Motor Show, could come to Europe.
The mid-size saloon concept caused a sensation in China when it was revealed that it would wear the famous badge.
And although a production version of the car would be aimed firmly at the Chinese market, there is potential for it to be sold elsewhere.
A senior Ford insider told Auto Express: "There's certainly been internal discussions about it [bringing it to Europe].
"I for one would love to see it over here [in Europe]. There is definitely a place in the market for a lower-cost car to sit under the Focus.
"The key would be doing it without being seen to make the Ford brand any less desirable."
And new Ford UK chairman and MD Mark Ovenden confirmed that the new model wasn't intended as a China-only car when he spoke to Auto Express at a ceremony to mark the retiral of outgoing chairman Joe Greenwell.
"It's a car initially for China," he said. "But it could work in other places."
See also
• Shanghai Motor Show 2013: Top 10
• Shanghai Motor Show 2013: Ugly cars
However, UK fans of the legendary name are set to be disappointed. When asked where else the Escort could be sold, Ovenden said simply: "Not Britain!"
Britain's traditional resistance to three-box saloons, and the negative publicity which surrounded later versions of the Escort, would make it a hard sell here.
Markets where saloons are more popular, such as in Eastern Europe and possibly even Portugal and Ireland, might be more feasible.
Ovenden explained the cultural reasons that caused the company to consider a new C-segment car for China, where the Focus is already a massive seller.
"People there do not drive the same car as their boss, and many bosses drive Focuses. So there is an opportunity to sell another car underneath it."