Ford Ka set for name change on all-new model
New city car could be badged Ford Ka Plus, and will focus on value for money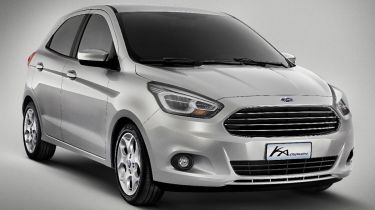 The Ford Ka is set for a name change when the all-new model is unveiled next year. Auto Express understands that Ka Plus is currently being used internally and stands a chance of making production.
The thinking behind the move is that the third-generation city car will be a very different proposition to the trendy, sharp-handling original car which debuted the badge in the late nineties. A Ka concept was revealed in Brazil in 2013 that hinted at the change in focus, and recent spy shots have confirmed the new car will be a more sober, practical proposition.
Roelant de Waard, vice-president, sales, marketing and service, explained the company's thinking behind the evolution of the Ka."The segment has evolved significantly since the launch of the first Ka and the vehicle we introduce will fully reflect the change in that segment," he said.
"It has moved very much from a first time buyer, very young audience, with a quite funky design – either loved or hated – to very much a family car with a more mature audience who are looking for packaging efficiency and space for their families rather than an expression of emotional design. The vehicle introduced next year will compete from a price perspective in the same territory, but from a customer value proposition it will be quite different.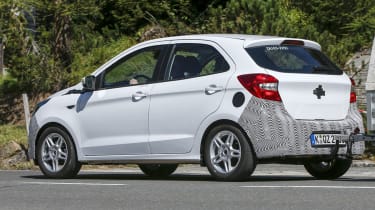 "For some people who love the quirkiness of the original Ka that may be a surprise. But the sales results demonstrate customers are looking for something else in that segment."
• Frankfurt Motor Show 2015 news round-up
Personalisation for the new car will not be a priority. Said de Waard: "This vehicle is not aiming to set itself apart by ornamentation. The big surprise will be the incredible roominess in a very short vehicle."
He repeatedly avoided calling the new model the Ka, and when asked directly if it would still be badged Ka given the change in focus, he smiled and said: "No comment."
What do you think of the Ford Ka? Have you owned one? Let us know below...