Ford BlueCruise: UK's first legal hands-free driving tech arrives
It's the first legal hands-free driving system to be available on cars sold in the UK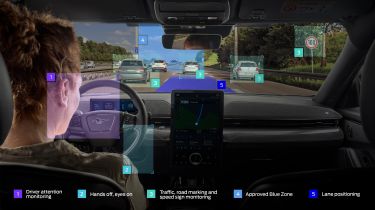 Hands-free driving has been legal in the UK since 2021, but Ford has won the race in becoming the first manufacturer to offer the technology to customers - although it does come with some caveats. 
Ford's new BlueCruise technology allows drivers to remove their hands from the steering wheel on certain 'pre-mapped' motorways in the UK. The system works at speeds up to 70mph, with radar and cameras monitoring road markings, signs, and changing traffic conditions. It also checks on the driver to ensure they're paying attention to the road.
BlueCruise is already enabled on certain Ford models in the US and Canada, where the firm claims it has racked up 64 million miles using the technology. The system will be available on new Ford Mustang Mach-E models here in the UK. 
Ford will sell the BlueCruise technology on a subscription basis. The first 90 days are included with the car and then it'll be a £17.99 monthly fee. 
Jesse Norman, UK Transport Minister said, "It is great news that Ford has chosen us for the European launch of its BlueCruise technology, and I am delighted that this country is once more at the forefront of innovation." 
It's not the first time we've seen 'driverless technology' appear on UK roads. Tesla's Autopilot is already available here, but that system requires the driver's hands to be on the steering wheel at all times.
The UK's Department for Transport has approved BlueCruise for 2,300 miles of motorways in England, Scotland and Wales. "Today marks a significant moment for our industry as Ford BlueCruise becomes the first hands-free driving system of its kind to receive approval for use in Great Britain," said Lisa Brankin, managing director, Ford UK & Ireland. 
Do you think hands-free driving technology should be allowed on UK roads? Have your say in the comments...