Energy company E.ON buys Ford Transit Custom van in bulk
The energy company E.ON has taken delivery of nearly 120 new Ford Transit Custom vans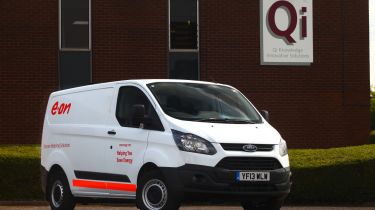 E.ON has expanded its fleet to include nearly 120 new Ford Transit Custom vans which will be used by the energy company's meter fitters nationwide.
The E.ON fleet currently comprises around 2,000 vehicles, the majority of which are Ford-badged. Now the fleet has been extended to include 118 Ford Transit Custom vans in short wheelbase form, equipped with a 2.2 TDCi diesel engine.
The vans will be modified by Qi Van Systems to incorporate special racking in the load area, Trakm8 telematics and an AVI alarm system.
These Ford Transit Custom vans are the first in the E.ON fleet which have emerged through the Whole Vehicle Type Approval 'enhancement' scheme. This scheme is designed to ensure that panel vans and some pick-up trucks are modified in compliance with national regulations.
Stephen Gafson, Ford Direct sales manager, said: "Ford has enjoyed a long and mutually successful business relationship with E.ON and I'm delighted to see them place a large order for the multi-award-winning Transit Custom. The new van is already well on the way to establishing its own market niche, and will be key to the continued success of the Transit range."
In September 2012 the Ford Transit Custom was awarded the International Van of the Year award, making it the fourth in a string of wins for the Transit family over the past 12 years. We also named it as the Auto Express Van of the Year 2013.