Honda CR-Z to make comeback with 280bhp Type-R engine
The Honda CR-Z coupe will return to Europe in 2017, with a more focused chassis and 2.0-litre turbo from Civic Type R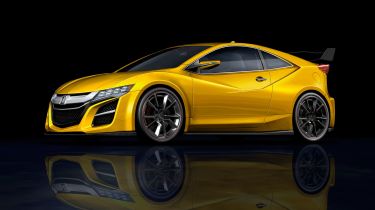 Alongside the new Honda Civic Type R and NSX supercar, it appears that a much more performance-focused CR-Z coupe is on the cards for the Honda range in 2017.
A source from Honda's Research and Development centre near Tokyo has revealed that the hybrid CR-Z coupe, quietly dropped recently from the firm's UK lineup, will be replaced with a faster and more focused model in 2017 - and our exclusive image shows how it could look.
"Remember the CR-Z", said the unnamed insider. "It's disappeared from Honda's lineup in Europe and Australia, but it's due to make a comeback in 2017".
"The old model's weak street-cred and lack of performance have been addressed - the new coupe will be a force to be reckoned with."
The new CR-Z's front-wheel drive platform will be borrowed from the current Civic hatch, but with 100mm chopped from the wheelbase. Design inspiration will be taken from both the Civic Type R and NSX, with a wedgy profile and aggressive stance. In the U.S it will likely be marketed as a Civic Coupe CR-Z.
It'll go head-to-head with mainstream sports coupes such as the Peugeot RCZ-R, and will cross over to our shores with a detuned version of the Type R's new turbocharged 2.0-litre four-cylinder engine - with power at around 280bhp. The Japanese-market CR-Z is tipped to get a reworked hybrid powertrain producing over 200bhp, but it may not reach the UK.
Whilst still in design and development planning, the CR-Z could make a debut in concept form as early as next year, with a production version expected to appear at the 2017 Detroit Motor Show.
Would the CR-Z appeal to you if it came with a more powerful engine? Let us know below...