Honda NSX - best supercars
The second generation Honda NSX is here, ready to take on the world again with a baffling array of tech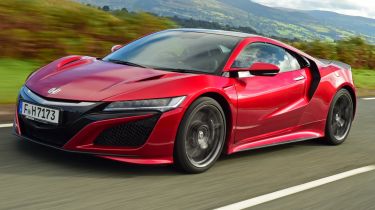 The Honda NSX offers something different to the Porsches, Lamborghinis and Ferraris of the supercar world, thanks largely to its sophisticated powertrain and aluminium underpinnings. The new NSX was born under the rather large shadow cast by its predecessor, but a twin-turbo V6 petrol engine and three electric motors mean it's breathtakingly fast.
It is not without its faults; the options list is a tad on the steep side, it is not the best in class to drive and despite being a hybrid, the economy is disappointing. The high tech powertrain is good for 573bhp and 645Nm, which allows the NSX to reach a top speed of 191mph and 0-62mph time of 2.9 seconds.
Honda claims that the new NSX's aerodynamics are incredibly efficient, thanks in no small part to its dynamic spoilers and flaps. The low slung body and aggressive nose will allow you to attract attention almost anywhere, which, as we all know, is required of a good supercar.
Top 10 best supercars 2021
Honda NSX