GM to launch third electric pick-up truck later this year
General Motors has announced it will soon offer a full-sized GMC-badged electric pick-up to rival the Tesla Cybertruck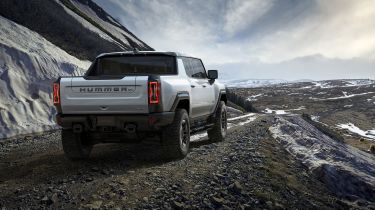 General Motors has confirmed that it'll launch a third electric pick-up truck later this year. It'll carry a GMC badge and will rival the Tesla Cybertruck, the Ford F-150 Lightning and the Ram 1500 as a full-size pick-up.
It'll follow the GMC Hummer EV pick-up into the showrooms later this year, but will be pitched as more of a workhorse than its lifestyle-oriented stablemate. The new GMC truck will also eventually be joined by an electric version of the Chevrolet Silverado.
Duncan Aldred, the Bolton-born exec who left Britain to oversee General Motors's Buick and GMC divisions, believes GMC's new offering has what it takes to beat the competition in the electric pick-up truck class.
In a recent conference, he said: "I'm very confident GMC will be a big winner in this space. I think we're already showing our excellence in terms of electrification – we've done that through Hummer EV." Aldred also mentioned that the new pick-up will be "pretty advanced."
He told Auto Express that the electric GMC pick-up is scheduled to enter production towards the end of this year, meaning it will beat both the Tesla Cybertruck and Rivian R1T to market. However, there's no word yet on what the new truck will be called.
The new GMC pick-up forms part of a $35 billion (roughly £25 billion) investment from General Motors, dedicated to the development of electric and autonomous vehicles.
The strategy will see the company launch 30 new electric vehicles globally by 2025, with an aim to sell at least one million EVs annually within the same period. By 2035, General Motors will phase out combustion engines entirely to become an electric only manufacturer.
Despite the electric pick-up market being very new and therefore largely untested, buyers have flocked to the likes of Tesla and Ford to place orders for their upcoming electric truck offerings. 
Within a week of unveiling the Cybertruck, Tesla said it had amassed more than 250,000 orders – and the current estimates place that figure at more than one million. Meanwhile, Ford says it has had more than 100,000 orders for its new all-electric F-150 Lightning.
Now read our run-down of the best electric cars on sale now…