Hyundai Terracan 4x4 review (2003-2007)
Huge, both inside and out, the Terracan is the working man's new 4x4 favourite.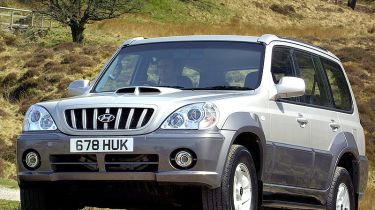 Huge, both inside and out, the Terracan is the working man's new 4x4 favourite. Ultra-low prices are an immediate attraction, the single model and engine offering loads of features for well under £20,000. And unlike many newer, fancier rivals, it's a true working vehicle - ground clearance is substantial, trim is rugged and there's a proper 'separate chassis' for extreme off-road used. Four-wheel-drive can be selected on the move via a central knob, meaning there's no bulky levers to manipulate. And the slick manual gearchange is a highlight too, as are light steering and fantastic visibility. It's not stressful to drive so long as you get used to the size.
The 2.9-litre common-rail turbodiesel helps. Impressively refined and with decent punch, it's also surprisingly economical and not at all unpleasant to use. Same goes for handling, for although there's plenty of body roll, reasonable steering and a plush ride means the Terracan is far from objectionable. But its best aspect is that enormous interior. Occupants feel regal, particularly in the rear, while comfortable seats and features such as climate control and CD player make it a relaxing place to travel. There are only five seats though (the boot's huge) and dashboard design is, like the exterior, dull and unexciting. Not a vehicle to get hugely excited about, the Terracan is nevertheless competent and able - and fantastic value for money. The Isuzu Trooper lives on in spirit!