Nissan Sunderland plant expansion begins
£250million investment to expand Nissan's Sunderland plant, ready for Infiniti Q30 production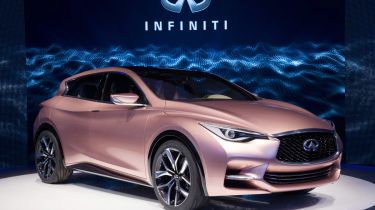 Construction of the Infiniti production line at Nissan's Sunderland factory has begun. The move is part of a £250m investment at the plant, which will see the new Infiniti Q30 built at the Sunderland plant from 2015.
The new facilities will cover 25,000 square metres, and will include space for the Q30's body and platform to be assembled, plus an area for trim and chassis, which will include a new engine installation facility.
The factory extension is due to be completed in time for the Q30 launch in 2015, with Infiniti claiming that the expansion and investment will create 1,000 jobs, including 280 new jobs at the Sunderland factory, plus more with its UK supplier base.
Nissan's Design Centre in Paddington and its Technical Centre in Cranfield are also involved in the Q30's development.
The ground breaking ceremony was performed by Trevor Mann, Nissan Motor Company's executive vice president, and Fintan Knight, vice president for Infiniti Europe, Middle East and Africa.
Mann said: "Securing the Infiniti Q30 for production at Sunderland was a tremendous achievement by the workforce and reflects the quality levels which they have reached.
The existing Sunderland plant is already the largest in UK automotive history and this £250m investment will move the plant even further up the value chain and reconfirm our commitment to their future."
Knight adde "This is a significant step for the Infiniti brand as we establish manufacturing here. The design centre in Paddington, the technical centre in Cranfield and the ongoing partnership with the Infiniti Red Bull Racing team in Milton Keynes testify to our strong link with the UK.
Our investment here amplifies the brand's presence in Europe, one of the key markets for Infiniti, but provides clear intent as we gear up for sales of the compact premium Q30 in 2015. Infiniti is committed to growing our product offering over the coming years as we challenge the traditional premium offerings".