'Jaguar Land Rover's next leader needs to bring big change in the right places'
Editor-in-chief Steve Fowler hopes Tata Sons makes the right decision when it comes to appointing Sir Ralf Speth's replacement as Jaguar Land Rover CEO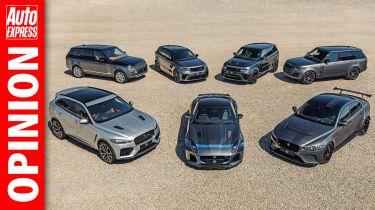 Over the past few days, I understand Tata Sons' top people have been conducting final interviews for the person who'll step into some of the most prized and most difficult shoes in the business as CEO of Jaguar Land Rover.
The process has been going on for a while; it was announced back in January that Sir Ralf Speth would be stepping down (or should that be up?) to become non-executive vice chairman of JLR and to sit on the board of Tata Sons. No doubt he is involved in the process of appointing his successor, along with chairman of the board of Tata Sons, Natarajan Chandrasekaran. But with just three months until the new CEO takes over, they haven't got long to make the right decision.
And how crucial that decision is. The Jaguar Land Rover story has had its twists and turns under Speth's leadership, but he has helped to build JLR into a firm that is the envy of the world.
Few car companies have the provenance that both Jaguar and Land Rover have. JLR is not, and never should be, just another premium auto maker. The world has enough of them – homogeneous posh car brands that are seemingly interchangeable: BMW, Mercedes, Audi, plus others that want to be like them. JLR doesn't and shouldn't.
Jaguar and Land Rover are different; they always have been and always must be. And JLR needs a leader with a degree of provenance and difference, too – someone who can bring about real change, but also a degree of stability.
More than anything, these great brands need to be understood. And there are not many people I can think of across the industry who could do that, who can see and maximise the opportunity the engineering revolution ahead of us can bring for these great British companies.
There's also one other must-have: whoever it is has to have the personality to inspire the company and its customers in equal measure. We should find out who it is very soon – so let's hope Tata Sons makes the right decision.
Who do you think should be appointed as JLR's new CEO? Let us know in the comments section...