'Limited run' of Ian Callum's Jaguar Mark 2 will be built
Jaguar's design chief has put his personal stamp on the classic Jaguar MkII and now you'll be able to buy one for £350,000!
Ian Callum, Director of Design at Jaguar Cars, teamed up with leading restorers Classic Motor Cars Limited (CMC) to redesign and reengineer a unique Jaguar Mark 2 with breathtaking results. The response to the car has been so positive that CMC have elected to build a limited run of them with prices between £350,000 and £375,000.
In response to the news that his creation is going on sale, Ian Callum said: "I redesigned the car and CMC rebuilt it and reengineered it for my personal use. I wasn't sure how it would be received but I have been both astounded and delighted with the response. I am pleased that a few more cars are going to be built."
Watch the Ian Callum Jaguar Mark 2 being built
The original car was unveiled at the opening of CMC's new headquarters in Shropshire, where the new building was opened by former Formula One Grand Prix world champion, John Surtees OBE. The car itself was unveiled by Norman Dewis - Jaguar's legendary test driver.
The Mark 2 by Callum project took 18 months to complete, with Jaguar's chief designer re-imagining it for his own personal use. Along with CMC, Callum wanted to retain the integrity of the original Mark 2, while making the new car more exciting in the way it looks and performs.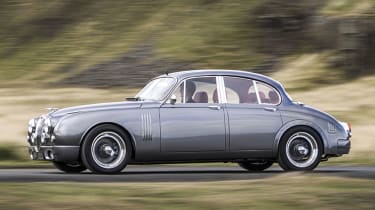 Callum said of the project: "Simplification and clarity was my objective", adding modern elements to the original design, but aiming to maintain the purity and elegance of the original car. The outcome is a car with a huge number of aesthetic and technical modifications that make it a practical, reliable and enjoyable car to use every day.