Recall for over 5,000 Kia Niro hybrid and plug-in hybrid models
Kia has recalled 5,020 hybrid and plug-in hybrid examples of the Niro in the UK due to an overheating issue in an electrical relay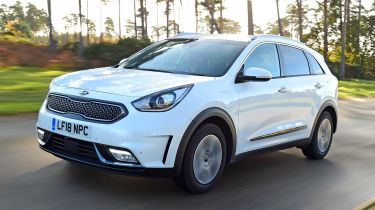 Kia Motor UK is recalling over 5,000 Niro hybrid and plug-in hybrid models following the discovery of an overheating problem.
Approximately 5,020 UK models are affected by the voluntary recall, which has been caused by a potential overheating issue in one of the car's electrical relays. At present, only hybrid and plug-in hybrid examples of the Niro are affected – not the all-electric e-Niro.
Kia says recalled cars will be inspected at dealerships and any relays affected by the problem will be replaced free of charge, with the repairs taking an estimated one hour per vehicle.
The fault was identified as part of Kia's ongoing research and development programme, with the manufacturer saying it is not aware of any fires or injuries having occurred as a result of the problem.
The models affected were built between November 2016 and September 2017. Kia is contacting all owners whose cars are subject to the recall, but invites anyone who is concerned about their vehicle to call Kia customer services on 08000 158757 or email enquiries@kiacustomercare.co.uk.
Chris Lear, director of aftersales at Kia Motor UK, said: "The safety of our customers is our number one priority and we are taking this action to ensure their vehicles are not affected in any way."
This isn't the first time Kia has had to recall one of its cars. Back in 2013, the South Korean brand recalled 25,192 examples of various models – including some that were no longer in production – as a result of a potential problem with the brake lights.
Then, the following year, the manufacturer called back around 5,787 Sportage and 1,432 Soul models due to an issue with the seatbelt pre-tensioning system.
Have you experienced any problems with your Kia Niro? Let us know in the comments...