Jaguar Land Rover to open Rockar store
You'll soon be able to buy a Jaguar or Land Rover online or in-store at Westfield Stratford City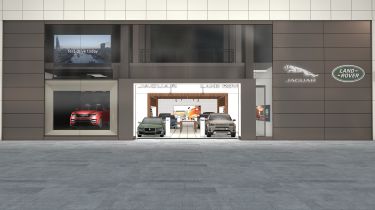 Jaguar Land Rover is to be become the next major car manufacturer to sell cars using a store without sales staff. In development with Rockar, the system lets buyers choose their car digitally in-store, and comes as part of JLR's £1billion investment into its existing 201 retailers.
The store itself will open at the Westfield Stratford City shopping centre in London in early October, while the online store will be available for customer use from the 7th of September.
Upon arrival at the store, customers will be greeted by specially trained staff who work on the goal of serving, rather than selling. They are trained to offer advice and will offer customers colour examples and interior samples. Six vehicles will be positioned around the store to look around, but customers are able to complete their purchase at home or right there and then.
Jaguar Land Rover will be hoping to cash in on the success that Hyundai has had with its own store at Bluewater in Kent.
However, the customer need not visit the store at all. The website allows potential buyers to book test drives, specify their car, arrange finance and even trade in an existing model before completing their purchase.
According to Rockar, more than 54 per cent of its buyers were women and the average age buyer being 39. Plus, 60 per cent of customers complete their purchase online later thanks to the 'no-pressure approach'.
Would you buy a car from a shop without sales staff? Let us know below...