LEVC TX taxi and VN5 van get 2023 battery upgrade
The all-electric range for LEVC's plug-in hybrid taxi and compact van has increased up to 78 miles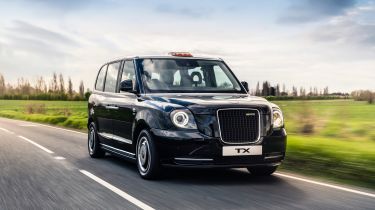 If you've been to London in the past few years you've certainly seen the new LEVC TX and maybe even hitched a ride in the famous black taxi cab. LEVC has just announced the latest round of upgrades for the TX and the VN5 van variant with improved battery technology boosting range.
At 34.6kWh, LEVC's new battery is larger than the 31kWh unit found in the outgoing TX and VN5, helping improve pure-electric range and overall CO2 emissions from the plug-in hybrid powertrain. Alex Nan, CEO of LEVC, said: "With new markets adopting the TX, we're proud to be making such a significant contribution to improving air quality in more than 20 markets." 
The new battery allows for an EV range of 78 miles in the TX and 73 miles in the VN5, up from a previous 64 miles for both vehicles. The extra range means CO2 emissions drop from 19g/km to 14g/km for the TX and from 19g/km to 17g/km for the VN5.
Despite a slight increase in battery size, the LEVC VN5's loadspace remains the same at 5.5 cubic metres and the gross payload stays at 830kg. 
The update comes just weeks after LEVC announced it is developing new all-electric vehicle technology in the form of Space Orientated Architecture (SOA). LEVC says the new platform will allow the company to enter new sectors with MPVs, pick-up trucks and larger commercial vehicles on the agenda. 
Click here for our review of the LEVC VN5 van...