Mazda 3 vs Audi A3 & BMW 1 Series: video group test
The Mazda 3 is a great-value alternative to German rivals from BMW and Audi. See how it fares in our video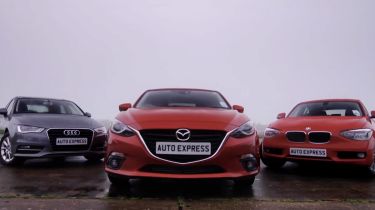 If you have a budget of around £22,000 and want a stylish family hatchback, you have a few choices – and the Mazda 3, Audi A3 Sportback and BMW 1 Series will be high up on your list. 
The Audi weighs in at £21,445 in 1.6 TDI SE spec, while the BMW 116D SE is £21,360. The cheapest in this test, though, is the Mazda 3 - at £21,145 in 2.2 SKYACTIV-D SEL spec. 
The Mazda 3 comes with a 2.2-litre diesel engine with 150bhp, while the Audi A3 has a 1.6-litre TDI engine with 103bhp. The BMW is slightly more powerful than the Audi with a 2.0-litre diesel engine putting out 116bhp. 
The Mazda's power advantage is made clear in our drag race, where it trounced the slower Audi and BMW. This isn't to the detriment of fuel economy, though: the BMW achieves a claimed 68.9mpg and 109g/km of CO2, the Mazda a very similar 68.9g/km and 107g/km and the Audi manages 74.2mpg and 99g/km of CO2 – the cleanest car here. 
The Audi is the most practical car in this test, followed by the Mazda 3. The BMW has the least boot volume out of the three cars in this test and is also the most cramped in the rear. The Mazda's sloping roofline means it loses out on a bit of headroom, but there is plenty of kneeroom. 
The A3 is an impressive all-round package on the road, with a comfortable ride and nicely weighted controls. It isn't particularly exciting, though. The engine is slightly noisy and rough when compared to the rest of the range.
The BMW is a more enjoyable car to drive thanks to a rear-wheel drive setup, with a smooth and comfortable ride even on bumpy roads. The Mazda is fun too, and thanks to the larger engine it's probably the top choice for keen drivers in this test. Over broken surfaces it can fidget, though, and those looking for the ultimate in comfort should consider the Audi A3 instead. 
The Mazda comes loaded with standard kit - if you want similar levels of equipment in the Audi or BMW, you'll need to spend several thousand pounds more.
Find out our final verdict on the three cars by watching the video group test above.