You can now buy a McLaren 570S for £995 per month
McLaren is offering financial services for the first time, with a payment plan available for all of its models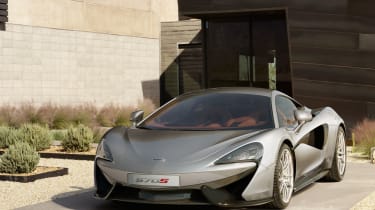 McLaren has today announced a new finance division, making their cars more accessible to a wider audience and allowing customers to pay for their cars using fixed monthly payments.
McLaren Financial Services will effectively rent you any new McLaren – from the entry-level 540C to the flagship P1 – as well as any McLaren Qualified pre-owned car, with optional final payments at the end of the lease term.
That means if you stump up the £39,500 deposit, you can lease a McLaren 570S for £995 per month over three years. That doesn't include the hefty £90,248 final payment though, meaning if you want to keep the car at the end you'll pay £166,020 – or £22,770 more than if you bought the car outright from the start.
While buying a McLaren using fixed monthly payments is a new concept, it's by no means the first supercar finance scheme. Ferrari offers its Premium Ownership Program, while Porsche Solutions claims to be 'an affordable way to drive a new Porsche every two to three years.'
Exact quotes for the new Ferrari 488 GTB are hard to come by, but Porsche will currently offer you a brand-new 911 Turbo S for £1,905 per month with a £30,000 deposit. The final payment is much smaller though, at £62,791. Porsche trumps McLaren's 7.9 per cent representative APR, too, boasting just 6.4 per cent over three years.
Jolyon Nash, Executive Director, McLaren Global Sales and Marketing, said: "McLaren Financial Services is playing an integral part in the continuing growth plans for McLaren Automotive as a business.
"The Sports Series (540C and 570S), as the most attainable McLaren model to date, has opened the brand up to a new market and completely new customer demographic."
Would you pay nearly £1,000 a month to own a supercar? Let us know below...