Mercedes B45 AMG
A 350bhp version of the Mercedes B-Class is one of a string of new AMG models being considered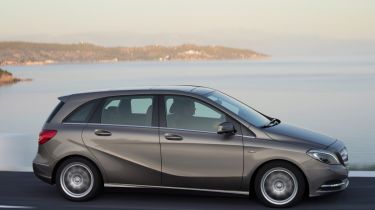 Mercedes is considering putting a 350bhp AMG version of the B-Class MPV into production. Called the B45 AMG it will join the A45 AMG, set to be revealed at the Geneva Motor Show in March, in the new small car family.
"If the marketing guys tell me we have the numbers then it's not a big deal," Tobias Moers, head of development for AMG told us. "If there's a market for it, there's a good chance we'll have it."
Bringing a B45 AMG to market wouldn't require too much development work either, as Moers explained: "The development work for the A45 AMG actually began in a B-Class, because the A-Class didn't exist. We have three four-wheel-drive B-Class sitting around at AMG."
If it makes production, the B45 will use the same 2.0-litre four-cylinder turbocharged engine as the A45, producing 350bhp and 450Nm of torque. A seven-speed dual-clutch automatic transmission will be the only gearbox option, while 0-62mph will take around 4.5 seconds.
But the B-Class won't be the only application of this engine in Mercedes' small car family. The CLA 'baby CLS', set to be unveiled at the Detroit Motor Show in January, will also get an AMG variant, while a performance version of the GLA small SUV is also under consideration.
"Why not," Moers told us. "Small SUVs are an increasing market and the SUV business is important to AMG, so a small AMG SUV could definitely be done."