Mercedes CLK Coupe review (2002-2009)
Competing in the prestige coupe and cabriolet market the CLK has it all.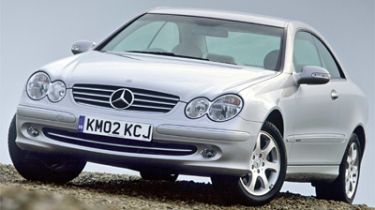 Competing in the prestige coupe and cabriolet market the CLK has it all. Its looks ape that of its SL and CL relatives in a more compact body, its svelte lines certain to attract attention. There are a wide variety of engine choices offered too - meaning the CLK has the capacity to compete against a formidable range of rivals from the Audi TT to the Jaguar XK8, open or closed. The AMG version will offer performance to better Porsche's 911, but for those wanting less manic performance there's a range of smaller engines and even a diesel. Seven engine choices in all then, though surprisingly in the coupe it's the diesel that's the best all-round option. The 270CDi offers punchy performance, wallet friendly frugality and good refinement.
Two doors and good looks need not mean that there's a huge loss in practicality. The CLK is a genuine four-seat proposition, access to the rear eased by not only the movable front seats but the lack of a 'B'-pillar. It's a similar story with the roof removed, there's space for four and the boot remains large, even with the hood stowed. Specification is reasonably comprehensive, though tick the option box for the automatic if it's not already standard. Far better to drive than its predecessor it's not quite a match for more overtly sporting rivals like BMW's 3 Series Coupe, but it grips well and can be enjoyed on winding routes. The ride is fantastically supple, the CLK cosseting drivers and passengers with its smooth manners, while wind and road noise is also impressively low. All this makes the CLK an ideal machine to cover long distances, assured that when you arrive at your destination that you'll be doing so in style.
Engines, performance and drive
0
MPG, CO2 and Running Costs
0
Interior, design and technology
0
Practicality, comfort and boot space
0