BMW eyes up moving MINI production abroad
Bosses cast doubt over MINI Oxford plant's future, while BMW engine production could move to Austria post-Brexit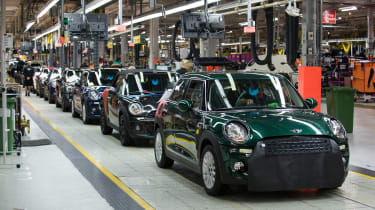 Doubt has been cast on the future of MINI production in Oxford and BMW engine production in Warwickshire, following comments from a senior member of BMW staff.
BMW board member Peter Schwarzenbauer told Sky News that the firm may "need to consider" moving MINI production out of the UK after Brexit, as a result of costs incurred from being outside the EU.
Speaking at the Geneva Motor Show, Schwarzenbauer also told Reuters that a no deal Brexit could result in BMW engine production being moved from the brand's plant at Hams Hall to Steyr in Austria.
BMW to close MINI plant for one month immediately after Brexit
BMW is to close its MINI factory near Oxford the day after the UK leaves the EU. The move is said to be part of the company's "planned annual maintenance", but is being timed to coincide with Brexit to minimise short-term delays related to parts supply issues.
The company explained that "planned annual maintenance periods at BMW Group production sites allow essential updating and equipment replacement to be completed over several weeks, while there is no production taking place" but added that, "we have scheduled next year's annual maintenance period at MINI Plant Oxford to start on 1 April, when the UK exits the EU, to minimise the risk of any possible short-term parts-supply disruption in the event of a no-deal Brexit."
The spokesperson explained that "while we believe this worst case scenario is an unlikely outcome, we have to plan for it."
BMW also said it remains "committed to our operations in Britain, which is the only country in the world where we manufacture for all three of our automotive brands."
BMW recently confirmed it had developed a task force to plan for a no-deal Brexit, while Jaguar Land Rover confirmed only this week it was putting staff at its Castle Bromwich plant on a three-day week due to "headwinds impacting the car industry".
For more news and reviews on MINI, visit our dedicated hub page...