Official: 400 jobs to be cut at MINI Oxford plant
Reduced customer demand will see almost half all agency staff at the MINI Oxford factory lose their jobs by mid-October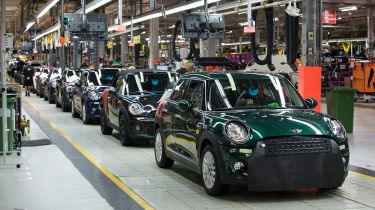 Around 400 jobs are to be cut at the MINI plant in Oxford in the coming weeks due to reduced customer demand, it has been confirmed.
By mid-October, the factory will move from a three-shift pattern to a two-shift pattern, while continuing to operate five days a week. MINI Oxford has 4,000 employees, of which 950 work on an agency basis. Of these, 400 are set to lose their jobs as a result of the forthcoming change in shift patterns.
Bob Shankly, human resources director at MINI Oxford, said: "The COVID-19 pandemic has resulted in a substantial impact on customer demand and, like other automotive manufacturers, our volume forecasts for 2020 have had to change accordingly.
"We have, therefore, made the difficult decision to adjust our shift patterns at MINI Plant Oxford from October. This will give us the flexibility we need to adapt our production in the short to medium term, according to developments in global markets.
"Our decision has been made after close discussion with trade union representatives and we are aware that our plans will have an impact on people during an uncertain and worrying time.
"We have sought to protect as many jobs as we can, while also taking the necessary steps to ensure the stability of our business in light of this current period of volatile and unpredictable market conditions."
Last year, doubt was cast on MINI Oxford's future when BMW board member Peter Schwarzenbauer told Sky News that the firm may "need to consider" moving MINI production out of the UK after Brexit, as a result of costs incurred from being outside the EU.
Schwarzenbauer also told Reuters that a no deal Brexit could result in BMW engine production being moved from the brand's plant at Hams Hall, Warwickshire to Steyr in Austria.
With the Brexit transition period coming to an end on 31 December and no free trade agreement yet having been reached, it remains to be seen whether MINI's future in Oxford is safe or not.
For more news and reviews on MINI, visit our dedicated hub page...