Segway PT's tilt at electric transport revolution comes to an end
The two-wheeled, self-balancing vehicle promised to revolutionise transport when it launched in 2001, but the Segway never achieved its goal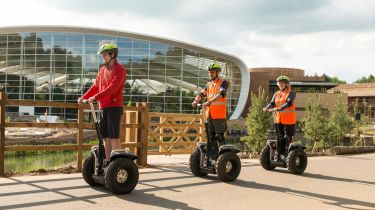 Production of the Segway PT (Personal Transporter) - perhaps the most recognisable product manufactured by the company of the same name - will cease next month, it has been confirmed.
The self-balancing, two-wheeled personal light electric vehicle (PLEV) is currently built at a factory in the US state of New Hampshire, but the final example will roll off the production line on 15 July.
The Segway PT launched in 2001 and was hailed as the future of personal urban transportation. Although the product earned popularity with city tour guides - as well as some security companies and police forces - the general public never bought it in big numbers.
In 2015, Segway was purchased by Chinese rival firm Ninebot. The company now produces a variety of different PLEVs - including e-scooters, electric roller skates and even a go-kart.
Segway president Judy Cai announced the end of PT production, saying: "Within its first decade, the Segway PT became a staple in security and law enforcement, viewed as an effective and efficient personal vehicle."
Over the course of the Segway PT's 19-year lifespan, it's been involved in a number of high-profile accidents. In 2003, US President George W Bush was pictured falling off a Segway, while Usain Bolt collided with a cameraman who was riding one in 2015.
Not all accidents involving the Segway were minor, though - some had tragic consequences. In 2009, the then-owner of Segway - Jimi Heselden - accidentally drove his PT off a cliff and crashed into the River Wharfe in West Yorkshire. The crash cost Heselden his life, with the coroner finding that he had been attempting to let a dog-walker pass when the incident occurred.
Have you ever used a Segway? Let us know what you think below...