Skoda patents the world's first light-up seat belt buckle
Skoda's latest innovation serves as a reminder to passengers to belt up – and could help reduce the risk of injury in the event of an accident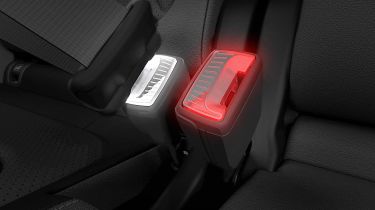 Skoda has filed a patent for the world's first illuminated seat belt buckle. The system has been designed to remind passengers to put on their seat belts when entering a vehicle.
The seat belt buckles are fitted with multi-colour LEDs bulbs that display one of three colours, depending on the status of the seat. If there's nobody sitting in the seat, the buckle will glow white to indicate to passengers where it is.
Once someone sits in the seat, a weight sensor mounted in the cushion will recognise their presence and the buckle will glow red to indicate the seat belt isn't fastened. If the buckle is fastened correctly, the LED will change to green to indicate its successful engagement and then switch back to white to avoid irritating the driver.
Skoda says the system could find particular use with parents – the bright LEDs will easily allow them to see if their children have their belts fastened properly before setting off. Skoda also says the buckles can be programmed through the car's infotainment system with an animated welcome sequence to help make them more visible at night.
Light-up seat belt buckles are the latest in a long line of innovations from Skoda's research centre. Last year alone, Skoda filed 94 individual patent applications, which the brand says was more than any other company in the Czech Republic.
Skoda's other patent applications include a flexible cargo snake, which allows loose objects to be positioned more securely alongside luggage in the boot, and floor mats made from hollow fibre fabric, which Skoda says are easier to clean than conventional carpets. They also hide dirt between its fibres, which Skoda says makes it barely visible.
What do you make of Skoda's new light-up seat belt buckles? Let us know in the comments section below…