Highway Code updated to make motorways safer
Updated motorway driving advice for motorists relating to stopping in an emergency, red X signs and variable speed limits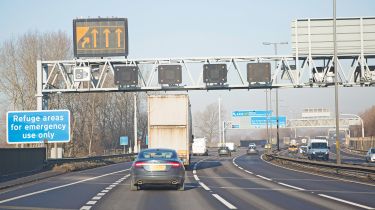 The Highway Code has been updated to provide clearer advice for drivers using motorways and to improve general road safety.
Rules have been updated to emphasise that drivers need to get sufficient sleep before embarking on a long journey, while motorists are reminded that emergency refuge areas and hard shoulders are not appropriate places to stop for a rest break or any other non-emergency reason.
Motorists have also been reminded that they should not drive in lanes where a red X symbol is displayed on the overhead gantry - a rule that is now enforced by cameras. If a motorway exit can only be accessed by crossing through a lane with a red X above it, then drivers should consider that exit closed and not try to turn off.
New images have also been added to the Highway Code to help drivers understand what the variable speed limit signs shown on smart motorways look like.
In addition to this, further information has been given on tailgating, including what it is and why it's dangerous. Motorists are reminded that the police will enforce dangerous or careless driving offences if someone is caught tailgating.
The AA welcomed the updated Highway Code, with the organisation's president Edmund King saying it "gives great guidance on how to keep drivers and others safe on our roads".
Tony Greenidge, CEO of IAM Roadsmart, commented: "Clear advice on what to do if you break down on a smart motorway, and the vital importance of strict compliance with red X signs are particularly important, in addition we would recommend that every driver refresh their knowledge by reading the new document.
"From daily commuters to occasional users, The Highway Code update will help protect drivers and their passengers, as well as keep England's vital road network flowing."
Do you like the Highway Code changes? Let us know in the comments section below...