New DeLorean Alpha5 gets 300-mile range and gull-wing doors
Gull-wing doors and a range of over 300 miles for DeLorean's new Alpha5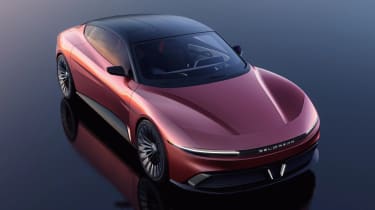 1/5
DeLorean has unveiled its first car for over 40 years - the new Alpha5 electric car. The long-awaited follow up to the DMC-12, the new Alpha5 retains the iconic gull-wing doors and rear window Louvres but that's where the similarities end - despite the two cars both being penned by Italdesign. 
Instead of the DMC-12's blocky, wedge-shape, the new Alpha5 is altogether curvier with a long bonnet, wide wheel arches and a shallow roofline that tapers to the rear. Details such as the aerodynamic alloys, closed-off front grille and the large rear diffuser all help to create a drag coefficient of just 0.23, DeLorean claims.
The biggest difference between DeLorean's two cars lies beneath the bodywork with the Alpha5 receiving an all-electric powertrain. DeLorean has said the battery will be over 100kWh in size giving a range of over 300 miles and that the Alpha5 will go from 0-62mph in three seconds with a top speed of 155mph. As a nod to Back to the Future - the 1985 film that shot the DMC-12 to fame - DeLorean has also revealed that the Alpha5 should do 0-88mph in 4.35 seconds, but there's no word yet on any time travel functionality. 
Inside the fairly minimalist cabin, we see a pair of big touchscreens. One rises out of the centre console and the other sits behind the steering wheel as a driver's display. There's also seating for four in some quite aggressive looking sports seats. 
The Alpha5 is likely to be the fastest iteration of the new DeLorean electric car with the company also announcing the names 'Alpha', 'Alpha 2', 'Alpha 3' and 'Alpha iV' alongside the Alpha5 or 'Alpha V'.
The Alpha5 measures 4,995mm in length, has a width of 2,044mm and a height of 1,370mm - making it similarly-sized to the Porsche Taycan, which will likely be a key rival for the car. 
Pricing hasn't been revealed but we can expect the Alpha5 Launch Edition to go on sale soon after its public debut at this year's Pebble Beach Concours d'Elegance on 18th August. 
Are you excited about DeLorean's return? Let us know in the comments section below