ZipCharge GoHub announced as modular electric car charging station
Having already released the portable Go charging unit, ZipCharge has created a fixed charging station containing up to ten of its EV power banks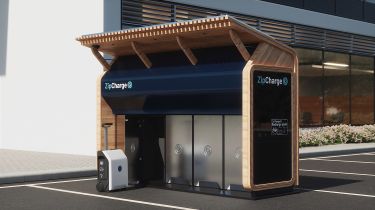 ZipCharge has introduced a new EV charging solution designed to accelerate the growth of the UK's charging infrastructure, called the GoHub. The new product is a fixed station containing up to ten of the brand's portable Go electric car chargers, and ZipCharge claims that the GoHub is three times cheaper than a typical level 2 unit.
The GoHub is also three times faster to install, which ZipCharge hopes will quicken the growth of the country's charging network. The firm offers a subscription service for EV owners to use the product, but customers can also rent a station or purchase one outright. The smallest GoHub contains five portable charging banks, with the larger unit housing ten.
The GoHub is compact enough to be fitted within a standard parking space, but pavement installation is also an option. ZipCharge allows for public shared access to its power banks, with users reserving one using an app. As the station is approached, the correct bay door opens automatically, allowing the power bank to be removed and wheeled towards a vehicle for charging. 
The small suitcase-sized Go power banks contained within the GoHub are produced from reused batteries, and feature a retractable handle for portability. Users can plug into the Go's charging port to provide up to 20 miles of extra range in around 30 minutes, with a 4kWh charge costing £1.
The GoHub can also be specified with a mobile device charger, a rainwater harvester and Wi-Fi hotspot connectivity, along with a wind turbine to produce renewable energy. Electric bike and scooter charging capability is also offered as an option.
ZipCharge co-founder Jonathan Carrier predicts that the GoHub will replace standard home chargers by the end of the decade, due to the product's versatility. "We have the bold ambition to deploy 100,000 GoHubs globally by 2030 to support EV charging, local grid resiliency and energy democracy", he said.
Click here for our list of the best electric cars on sale...