Are heated seat belts the next big thing for electric cars?
The new heated seat belt technology from ZF could even increase EV range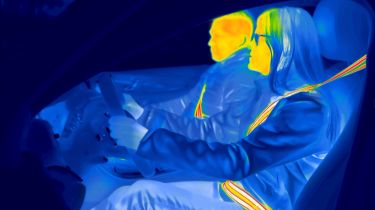 It's no secret that electric cars can struggle in lower temperatures with range potentially decreasing due to the effect on battery efficiency and power being diverted to climate control systems. Now tech company ZF (also known for supplying many car makers with gearboxes) has claimed to have tackled this problem by developing heated seat belts. 
ZF says heated seat belts will help drivers and passengers reduce energy consumption used to heat an electric vehicle. They will also be designed to work in conjunction with seat heaters and heated steering wheels to maximise efficiency. ZF claims that during cold weather, heated seat belts may even increase range by up to 15 percent by reducing the need for cabin air heaters. 
The heated belts are made from a specialised webbing with heating conductors woven in. This means the belt is a little thicker than the standard size. ZF says "the heated belt is designed to provide occupants with a uniform feeling of warmth close to the body". 
ZF also claims the heated seat belt won't detract from any safety as it "behaves like a conventional seat belt, and its operation is also identical". The heated seat belt will be designed to provide temperatures of between 36 and 40 degrees Celsius typically. 
Given that the heated seat belts are positioned and act just like regular seat belts, ZF says car makers will not have to worry about any additional procedures to fit them to their cars. Belt retractors will also not need modifying. Another safety aspect of a heated seat belt is occupants removing layers of clothing - allowing for the belt to work better in a crash. 
Despite the possible safety, range and cosiness benefits, no car maker has signed on to use ZF's latest technology as yet so we might never see it reach the public road.
Now read our list of the best electric cars...