Law change allows longer lorries on British roads
Government points to CO2 savings and an economy boost as reasons for allowing longer lorries, but cyclists and others have safety concerns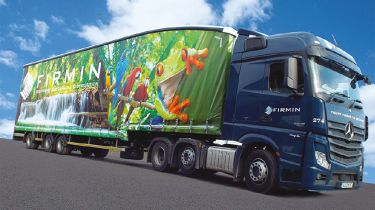 New laws to allow longer HGV lorries on UK roads will come into force on 31 May 2023, raising the maximum vehicle length for articulated truck and trailer combinations to 18.55m - 2.05m longer than the previous legal limit.
There's no increase in maximum weight, but the new longer trailers will be able to carry greater volumes of goods, which should result in a significant reduction in the number of journeys required. The Department for Transport estimates the result of implementing the change will be 8 per cent fewer delivery trips - or a reduction of one out of every 12 standard-size trailer journeys. An associated benefit is a reduction in pollution, with the DfT estimating the new longer semi-trailers (LSTs) will prevent 70,000 tonnes of C02 from entering the atmosphere.
Roads minister Richard Holden is upbeat about the change which he sees as a win for British business. "These new longer lorries will make a big difference for British businesses like Greggs, who will see 15% more baked goods delivered, from tasty pastries to the nation's much-loved sausage rolls" he said. "Let the good times roll as we reduce congestion, lower emissions and enhance the safety of British roads."
The news hasn't been welcomed so warmly in other quarters, however, with Cycling UK declaring the move "alarming". It says there should have been more testing of the longer vehicles in real life scenarios in town centres and narrow country lanes, to assess the potential risks to cyclists and pedestrians.
Other concerns have been raised about the potential for damage to infrastructure and street furniture on roads designed around a smaller maximum length of trailer, but the government insists that an 11-year trial has proved the new longer lorries are safe.
Do you think that longer lorries on Britain's roads are a good idea? Let us know in the comments below...