Cost of living crisis sees 25% of drivers avoid car servicing and repairs
More drivers are making the potentially false economy of skipping or delaying car maintenance work according to an RAC survey,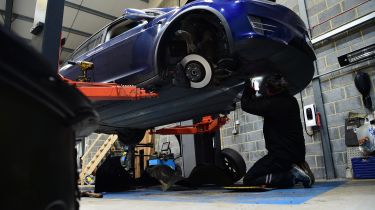 Cost of living pressures are forcing UK drivers to rethink their spending on car maintenance, with 25 per cent of respondents to an RAC survey saying they're either delaying maintenance or choosing to carry out their own car servicing at home or through friends.
The survey data shows that 15 per cent of drivers have delayed servicing their cars for a year or more. Meanwhile, 10 per cent are choosing the DIY maintenance option, with similar numbers opting for cheaper servicing - perhaps choosing a minor service instead of a full one - or shopping around for a cheaper deal at different garages.
The issue isn't just affecting cash-strapped drivers, as a survey earlier this year by the industry-funded Motor Ombudsman suggested almost two thirds of independent garages and dealer workshops were contending with motorists putting off essential repairs due to the national squeeze on incomes. Drivers reducing their maintenance spend on servicing is also a worry for large numbers of garage and workshop businesses, who also face the longer term threat of diminishing revenues resulting from the switch to electric cars with fewer moving and serviceable parts.
According to a spokesman for RAC Breakdown, Rod Dennis, it's almost always a false economy to scrimp on car maintenance because the probability of breakdowns increases, leaving drivers liable to fork out even more cash for repairs that might otherwise not have been needed.
"While drivers might feel the best thing to do is to put off servicing or opt for a cheaper service even if their car is due a full one, we advise strongly against it as repair costs are likely to snowball when things start to go wrong," he says.
Have you avoided car maintenance jobs due to the cost of living crisis? Let us know in the comments...