Police issue charges in less than 7% of UK car crime cases
The poor police response to spiralling UK car crime has been highlighted in newly released FOI figures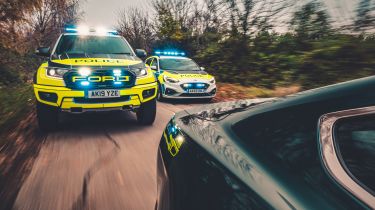 Just 6.7 per cent of the 396,000 reported vehicle crime incidents between 2019 and 2022 resulted in a suspect being charged, figures released by 39 UK police forces in response to a freedom of information request have revealed.
The reported crimes, which include theft of or theft from, a vehicle, have a staggeringly low clear-up rate, and in almost 70 per cent of cases police say they were unable to even identify a suspect. Because the Greater Manchester, Humberside, Staffordshire and West Midlands forces failed to respond to the FOI request made by dash cam retailer Nextbase, the shockingly low percentage of criminal charges may not even reflect the true scale of the problem.
Nextbase, which says a lack of video evidence is one of the reasons police can't find the villains concerned, also commissioned a survey of 2,000 British drivers to determine what sort of security measures are being adopted in the face of rising levels of car crime.
51 per cent of respondents say they rely on a car alarm, while 25 per cent say they always park their car where they can see it. 23 per cent keep their key fob away from windows and doors while at home, in order to prevent remote theft, while 17 per cent of drivers claim to have a dash cam. Six per cent of drivers say they don't take any particular measures to keep their cars safe.
Nextbase is highlighting the lack of effective policing around car theft and related crime in order to promote its new generation of products that work like video doorbells, recording footage of anyone breaking into or tampering with your car, and immediately backing it up online.
"This is the first time this kind of technology has made it to dash cams, allowing anybody to protect their vehicle with the kind of security homes have recently gained," says Nextbase spokesman Bryn Brooker. "Eventually this kind of technology will make stealing a car unviable. For now, it will help police track down more of these criminals and stop these thefts from happening in the first place."
Click here for our list of the best (and worst) police cars...