Exclusive: banned 71-reg number plates released
Latest DVLA list of banned UK registrations reveals which 71-plates are too rude for the road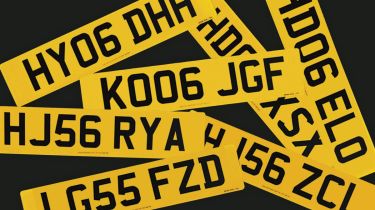 The Driver and Vehicle Licensing Agency (DVLA) has released its latest list of banned number plates, revealing which 71-reg combinations are deemed too offensive to be seen on the UK's roads.
Registrations referring to the Covid-19 pandemic aren't allowed this time around, with CO71 VD, CO71 ONA, CO71 RNA and AN71 VAX all on the list of suppressed plates. Combinations with connotations of violence have also been banned, including BR71 GUN, BR71 KLL and BR71 WAR.
There also appears to be a ban on overt or potentially offensive political statements made in number plates - drivers aren't allowed to display EU71 BAD, FA71 ST, AN71 USA, TA71 BAN or any combination starting with NA71.
It's hard to fathom why someone may want PR71 CK, BA71 ARD or AS71 HOL on show at each end of their car, but nevertheless these have also been forbidden as a precaution, along with EA71 NOB, EA71 POO and FR71 GGN.
Some serious thought goes into deciding which number plates need to go on the DVLA's list of suppressed registrations. Twice a year, the public body tasks its best and brightest with finding every combination of the newly released format that shouldn't see the light of day.
The criteria for plates to be banned is if they "may cause offence, embarrassment or are in poor taste". The DVLA points out that it's only a small minority of combinations that end up on the suppressed list, with the vast majority of registrations being publicly available.
That said, drivers who were hoping to have BO71 LOX, FA71 NNY or GU71 LTY attached to their vehicles will be disappointed this time round, as will those wanting PE71 RVT, TT71 XXX or HA71 SH.
The DVLA sent the newly updated list of banned number plates to Auto Express under a freedom of information request.
Car number plate scandal - how easy is it to buy an illegal number plate?